The Table Mountain Cable Car in Cape Town is one of the oldest and fastest means of getting up Table Mountain whilst avoiding the rugged, rough terrain. Since its inception, the Cable Way has continued to evolve whilst providing you with a world-class experience of a life time.
Summer season is peak tourist season for Table Mountain in Cape Town, and it's during summer when days are hot and lovely for a trip in the cable car. However, there are often long queues to be expected due to the peak time of the year. There are different ticket options and you could also choose a ticket for the morning or afternoon. However, mornings can be quite crowded so an afternoon ticket could work even better for some. Weekdays are also far better than public holidays and weekends because the queues are shorter. In Season December is packed with tourists while January, February and March is less busy, but the weather still is hot. The air is a lot cooler on top of the mountain and when the "tablecloth" cloud hovers over the mountain, it often brings with it cold misty or dewy air.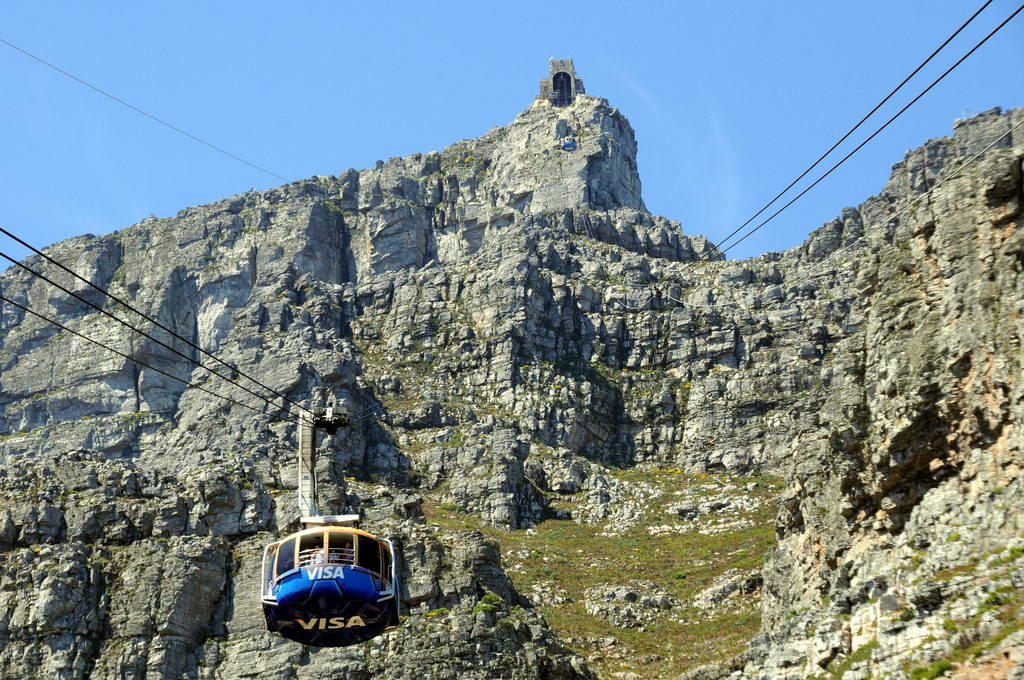 Once you reach the top of the mountain you can pop in at the Table Mountain Cafe for breakfast, lunch or something from the gourmet deli and refuel for your return to ground level. There is also a Wifi Lounge where you can plug in and recharge your devices, or check your mail and other online things and have a bite to eat as well as relax and enjoy the views on the Wifi Lounge balcony.
Table Mountain's Cable Car in Cape Town offers a variety of specials that will allow you the chance to enjoy the ride, scenery and save some Rands. The Table Mountain Cable Car can be closed subject to weather conditions as well as during annual maintenance periods (23 July to 5 August). Please refer to the official website for even more information about pricing and deals.
Table Mountain Cable car station
Table Mountain tours never fail to impress. You can enjoy the excitement, beautiful sightings and an all-round day filled with fun. The two categories of tours include hiking tours and cable car tours. These tours and experiences may be divided at the tour operator's discretion into various hiking routes and excursions, either way, you are bound to learn and enjoy at every moment. You can complete Table Mountain tours in a few hours, or more accurately in the tour lingo a 'half day tour'.
It is no secret that visitors can purchase their own tickets and make their own way up the mountain in the Table Mountain cable car. To some, this may be a more suited option. However, to get the most out of your visit taking a tour is a more fulfilling experience. With a professional guide, you can learn so much more about Table Mountain and the surrounds as opposed to going by yourself. Table Mountain is not just any mountain, just as Cape Town is not just any city. There are so many magical things that makes Table Mountain so unique such as the indigenous flora and fauna, the 500 million-year-old rock formations and don't forget one hell of a history. To maximize our Cable Car tours, we choose to pair the Table Mountain Cable Car tours tours with other tourist destinations in Cape Town such as Cape Point, Robben Island or even a wine tasting tour in the Winelands. Table Mountain tours have stood the test of time; it is everything you would have dreamed of and more.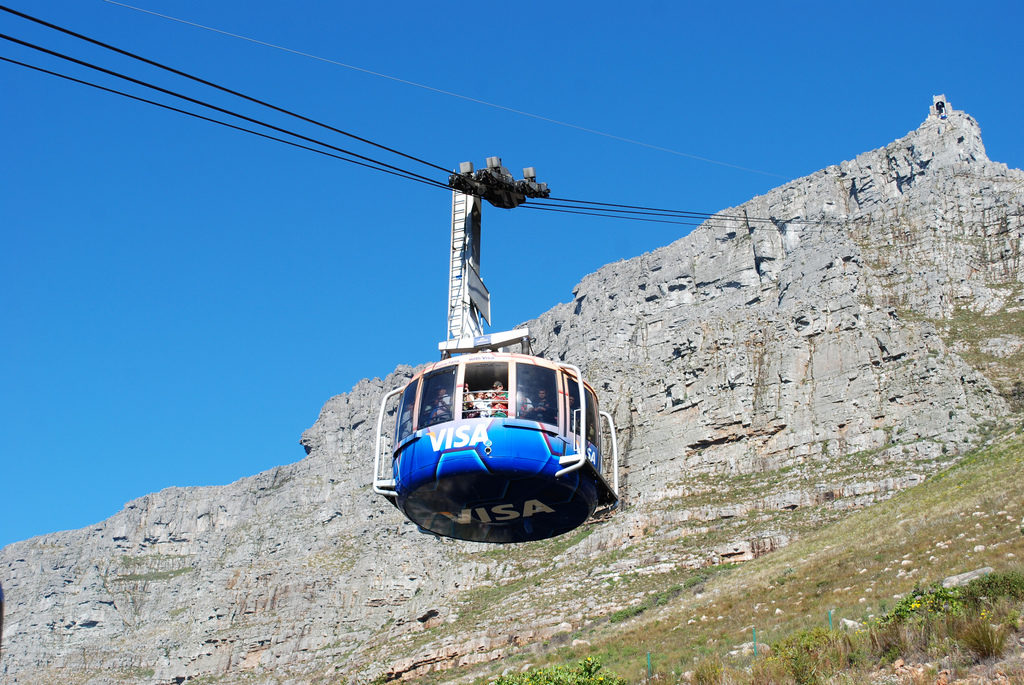 If you are not hiking, well then you are going in the cable car. Cable car tours are very popular in Cape Town too. Taking a cable car tour is hassle-free and a guide will escort you up in the cable car sharing his knowledge and telling you stories and interesting facts about table Mountain and about what happens below. Our Table Mountain tours have a little something extra on the cards for you. There are so many things to see in Cape Town, so we decided to combine our Table Mountain cable car tours with another one of our incredible Cape Town experiences.
Cable car tours
We offer a list of first-class Table Mountain cable car tours to give you a more exclusive experience. Enjoy a comfortable drive in your very own exclusive minibus that will pick you up at your pickup point to start our exciting Table Mountain Cable Car Tour. Select a Table Mountain cable car tour from our list of full-day Table Mountain cable car tours.
To view our Table Mountain cable car tour options click here.
Getting there:
If you are visiting Table Mountain in Cape Town in peak season you may drive your own transport or think about taking alternative transport due to congestion and limited parking. The roads are quite narrow and the traffic can start to build up when it becomes really busy.
Driving your car is simple, the roads are easy to navigate and the signs are clear. Table Mountain stands out from anywhere in Cape Town. It is generally less than about a 20-minutes drive from the city and the surrounding suburbs.
The MyCiti bus is a great option and runs to the Corner of Kloof Nek and Table Mountain road every half an hour. Remember to buy your card prior to getting onto the bus. Check out the timetables for MyCiti bus, it's really easy to figure it out: MyCiti Bus Time Table.
Uber has really taken off in Cape Town; this would be one of our strongest recommendation. Using this app powered by Google allows you to be driven right to the cable car station without the hassle of parking your car. Get fare estimates or download the app.
Take a guided tour. Well, this option is going to give you a hands-on information experience as well as dos and don'ts. Tour guides always know the best time and little secret tricks where to park and when to go. Tour buses and some shuttle services have access to special permits that allow pick up drop off and parking right outside the cable car station.
Meter taxi's are of course another option in Cape Town. Unlike Uber, you will be able to pre-book a taxi. In season meter taxi's are always at the bottom to take you back, you just walk out the cable car and they will be waiting in a line at the taxi rank. This is often an easier option than pre-booking a taxi on the way back due to the traffic coming up and the busy atmosphere just outside the cable car station.
Parking:
There is parking along the side of Table Mountain road the entire way, excluding some corners and dedicated areas in close proximity to the cable car station. There are another 2 parking lots at the bottom of Tafelberg road just as you turn off Kloof Nek. This is a little bit of a walk up to the cable car station but it is worth it if you have left it too late in the day and the traffic is building up. The parking area is about 1.5 km (1 mile) from the cable car station, but bear in mind this is an uphill walk. There is, however, a free shuttle that runs between this parking lot and the cable car station every 20 minutes.
Early morning before you set off for a hike and before the cable car station opens there is plenty of parking. Hiking up, avoiding queues and finding parking is highly recommended by Hike Addicts.