Garden Route hiking on the Garden Route in South Africa
If you appreciate nature and wildlife and have a holiday or vacation coming up in South Africa, then doing the Garden Route is a must when visiting Cape Town. It's the road trip adventure of a lifetime, with many amazing and interesting things to see and do along the way, one of them being hiking.
Hiking is popular in and around the Garden Route, and there are numerous hiking and walking trails suited to adults and children of varying fitness levels. Whether you are looking for a challenging hike with tricky twists and turns or you simply want to reconnect with nature and have fun exploring the great outdoors, Garden Route hiking won't disappoint. It's an excellent way to spend quality time and bond with friends and family.
What is the Garden Route?
The Garden Route is a beautiful 300-kilometre (190 miles) stretch of coastline in Cape Town. It extends from Witsand, a coastal town in the Western Cape, to Storms River in the Eastern Cape. Towns/villages that you encounter on the route include Knysna, Plettenberg Bay, Mossel Bay, Little Brak River, Great Brak River, Wilderness, Nature's Valley and Sedgefield. George is the largest city on the route.
Verdant and ecologically diverse (hence the name), the Garden Route lies between the Indian Ocean and the Outeniqua and Tsitsikamma Mountains. On the scenic south-eastern South African stretch, you encounter mountain passes, lakes, rivers, lagoons and forests. There are also historical buildings and many other attractions. The oceanic climate here is lovely, with warm summers and mild to cool winters.
Indigenous forests on the Garden Route are spectacular. They are made up of Cape fynbos (fine-leaved plants) and temperate forest vegetation, where close to 300 species of bird reside in an assortment of habitats. The forests provide trails for enjoyable Garden Route hiking and ecotourism activities.
What are the best Garden Route hiking trails?
There is a plethora of hiking trails on the Garden Route, each offering its own unique experience. Knysna alone has several lovely trails. Generally, the more popular the town, the better the experience, though not always. The trails range in length and difficulty level. Here are a few of the top trails to hike on the Garden Route.
St. Blaize Hiking Trail (moderate difficulty, 13.5 kilometres)
Saint Blaize is in Mossel Bay. It is a coastal trail with sightly fauna and flora that offers incredible ocean views. While it may be suitable for some beginners, the trail does extend over quite a distance and there are steep climbing areas and sections that are rocky and technical. If you don't mind breaking a sweat on your Garden Route hiking trail but don't want something too challenging, St. Blaize is a good option.
Dutton's Cove Walk (easy difficulty, 4 kilometres)
Dutton's Cove Walk, in the Western Cape's Herolds Bay, is an easy and breezy trail that is suitable for almost anyone, including children and unfit adults. Offering breath-taking sights of the expansive Indian Ocean, hiking this trail involves more walking than hiking, as the name implies. You begin your walk at Dutton's Cove beach and head east along the coast to a residential area, crossing road and footpaths overlooking the sea.
Pass-to-Pass Trail (moderate difficulty, 7.5 kilometres)
The Pass-to-Pass Trail is a splendid Garden Route hiking trail in George that hikers can do from either direction. You can start at the top of Montague Pass or Outeniqua Pass, detouring to Losberg approximately midway for stunning views of George and Victoria Bay. The detour point is a great spot for picnics. If you're feeling energetic, then you can hike back to the starting point but arrange a lift back for after the hike.
Cradock Peak Trail (hard difficulty, 19 kilometres)
Cradock Peak takes hikers to the highest peak in the Outeniqua Mountains, 1578 metres above sea level. The trail, which starts at Witfontein Forestry Station in George, offers unbelievable views of the Swartberg Mountains, Mossel Bay, Knysna and George. This hike is challenging, a lot more so than many other hikes. However, the streams, forests, pine plantation and everything else you see make it worth it.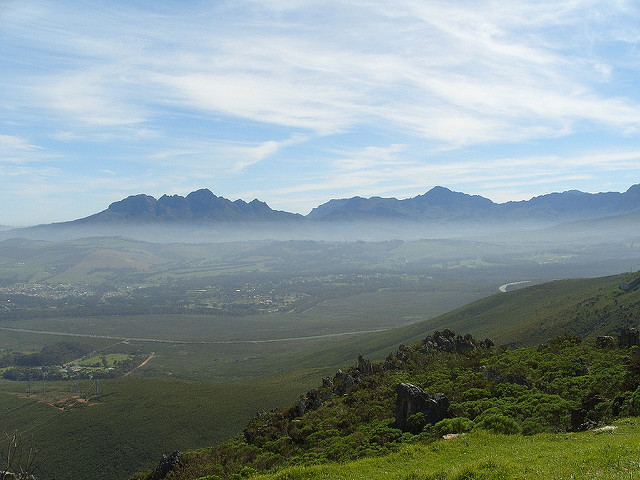 Wilderness Heritage Trail
This is a great hiking trail that you can do when you are looking for an interesting hike. This hike is taking you through the wilderness to the beach. The trail ends at the Kaaimans river mouth. This is about a 7kilometer hike and you can find some interesting plants, and birds along the way.
This is a hike that family and children can take, and it is relatively easy to do. The great thing about this hike is that you don't need to pay anything to enjoy the hike with family and friends. Making it easier for tourists to enjoy nature without spending extra money on entrance fees.
Different Knysna Forest Walks
In and around Knysna there are three popular hiking trails that you can take. Because of the beautiful scenery, many people like taking these trails. Knysna has the forest, the ocean and other scenery that are beautiful and interesting. And, this is why this is one of the more popular places on the Garden route for hiking. The three trails that we are talking about is the:
Woodcutters Trail: You can choose between the 3- or 9-kilometer trail.
Jubilee Creek Forest Walk A 3.6-kilometer trail through the forest.
Millwood Goldmine route. This is a 5.6-kilometer trail.
There are other trails as well, but according to tourists, these are the top three trails if you want to get the best Knysna experience.
Tips before you are going on any of these garden hiking routes
Before you can go on any of these garden hiking routes, there are a couple of things that you should consider. Especially, if you are taking the free routes. These are some of the things that you should remember:
You should not go on these hiking trails alone. This can be dangerous and you will always have the possibility to lose your way back home. A group of at least four people is recommended.
Take water with you. Even, if it isn't really getting hot on these trails, you are going to get thirsty. Getting water while you are walking is going to be impossible. It is essential that you are always taking water and snacks with you on any hiking trail.
Make sure that you are telling someone where you are going and which trail you are going to take. If you are getting lost, there is someone that will know where you are.
The right clothing is important. You need to be able to dress warmer if the weather is changing. And, you need to make sure that you are wearing light-colored clothing. Especially, during the summer time. A raincoat or waterproof jacket is also something that you should have with you. No matter which of these routes you are going to take.
It is recommended that you are doing research about the hike that you want to take. You should make sure that the trail is marked and that you will get your way back. And, you should make sure that you are going to know if there are any dangers about the trail that you need to know about.
The garden route. Something that every tourist should visit before returning home. There are many things that you can experience and do on the route. But, going on a hike might be the highlight of the trip. Because of how large the garden route is, there is a huge selection for trails that you can take. Some are just a day trip, while other might be even two to three days. You should make sure that you are going to choose the right hiking trail for you. A place that you find interesting and that you want to learn more from. There is nothing better to end a Cape Town holiday by taking one of the garden route hiking trails.