A walk, through Kirstenbosch Gardens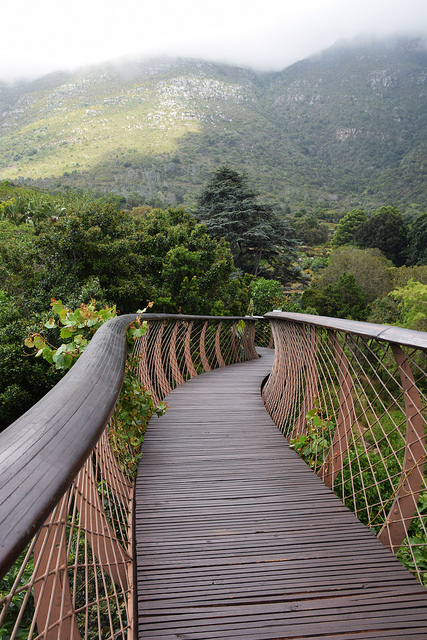 A walk through a botanical garden might not sound like fun to you. There are many people that don't really like walking in these gardens. For them, it is boring, with not many things to do. However, this isn't the same with the Kirstenbosch gardens.
With this garden, everything is different. This is the most popular garden in the country, and there are a huge number of things that you can do. If you think that Kirstenbosch gardens are the same as any other botanical garden, then you are in for a huge surprise. You will make a mistake if you don't make time for this garden during your Cape Town holiday.
History of Kirstenbosch Gardens
We know that most of you aren't interested in the history of a botanical garden. However, because of the interesting history that the garden has, this is something that you should know about. This is the only way that you can make sure that you know as much about Kirstenbosch Garden as possible. This includes the history.
During 1913, the parliament handed over the land to the Trustees of Kirstenbosch. The land was given by Cecil John Rhodes for the purpose of building and creating a botanical garden. This was officially done on 1 July 1913. You will see that there is a grave in the garden. The grave belongs to Prof Pearson who died in November 1916. He was the first director of the garden. He died at a young age because of overwork and pneumonia.
Over the years, the garden grows and become the beauty it is today. The garden lives through lots of tough times, like the war and the depression years.
What is making this garden so different
Now, you might ask what is making this garden so different. Why is this a recommended tourist attraction in Cape Town that you should make time for? There are so many other, more interesting attractions, why should tourists visit the Kirstenbosch gardens.
Not only are there some flowers and plants that are unique to Cape Town, but there are other unique features that you won't find anywhere else in the country. There is space that you can rent for functions, a restaurant where you can relax and enjoy some great meals, and there is even a bookstore. Then, we don't even talk about the canopy walk and the hiking trails that you can walk on. This isn't just another garden that every city in the country has. This is a unique garden that is offering a completely different experience.
The Canopy walk
The canopy walk is a new addition to Kirstenbosch Garden. And, for sure something that you should experience. The name of the canopy walk is known as boomslang, in English, this means tree snake. This is basically a bridge that is curling around the top of the trees. Letting you basically walk in the trees.
The walk is secure and safe. You don't have to worry about getting injured or falling from the structure. The whole canopy is about 130meters long and is narrow and slender. It is about 12 meters from the ground. Giving the impression of a snake that is in a tree. The canopy was built during 2013/2014 as a celebration of the garden's 100-year celebration. It opened on 17 May 2014 for the public.
When you are walking on the canopy, you are going to get a completely new look of the gardens. From a different angle. You don't need to pay anything extra to enjoy the canopy walk. Making this something great for young and old. Something to consider is that it is wheelchair friendly, with assistance. Meaning that even people in wheelchairs can enjoy the canopy walk and experience the same things as other people.
Shops and restaurants available
Most botanical gardens don't have any shops or restaurants. But Kirstenbosch Garden is different. They are offering not only a shop, but it offers a restaurant and even a bookstore. Making sure that you have everything you need for the best experience in the garden. To make sure that you can purchase souvenirs and make sure that you can enjoy a great meal with great views over the garden.
And, if this isn't enough Kirstenbosch gardens also have a nursery where you can purchase your favorite plant or flower. To ensure that you can have some of the same beauty in your garden. International tourists might not be able to take flowers and plants back home, but this is still a great experience to walk through the nursery and see what plants are available for purchase.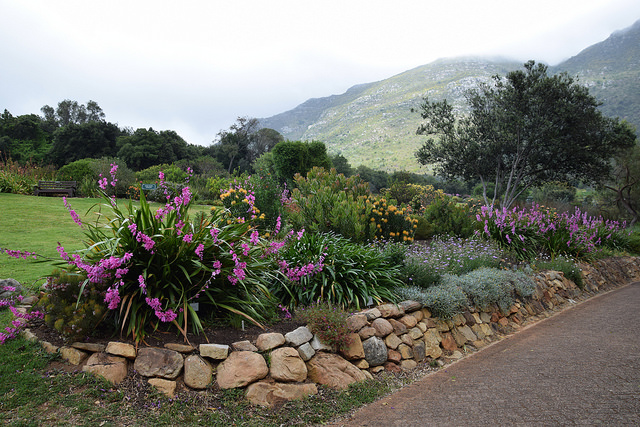 Variety of tours available
Kirstenbosch Garden is huge. Making it impossible to know where you should go first. This is why there are a couple of tours that you can join. Tours that will take you through all the most important parts of the garden. There are a couple of different tours available, so you can visit the garden for more than one day, and you will have something new to see, every time.
If you are in the mood to combine a walk through the garden with more effort, you can consider doing the mountain bike route. This is completely different and will give you a great experience. Something that you can do as a family or as a group of friends.
Essential information to know about the rules of the garden for tourists
There are a couple of garden rules that you need to know before you are going to visit the garden. This is so that you know what is allowed and what not.
The first thing to know is that you can have a picnic in the gardens. But you aren't allowed to take chairs, tables, and umbrellas with you. This is because this can damage the grass. You also aren't allowed to bring portable barbeques into the garden. You can purchase a picnic hamper at the restaurant or at the tea room.
You will see that there aren't any bins for rubbish in the garden. This is to make sure that the garden is staying as clean as possible, without having problems with pests like rats. This is essential that you know that you should take everything back with you and throw it away outside the garden or at home. No one is allowed to leave their rubbish anywhere in the garden. It can result in you banned from the garden and paying a fine. This is for the protection of the garden.
You aren't allowed to walk in the flower beds, to throw your cigarettes around and to damage the plants and trees in any form. Everything in the garden is protected and it should be respected.
Safety on the mountain
If you are going to take any of the hiking routes in the garden, there are a couple of safety issues that you need to know. First of all, you should have a map of the area. This is so that you can get back to the start of the hike if you are getting lost.
It is advised that you should never walk alone. A group of 5 people and more is advisable. And, you should be back before dark. Walking in the dark isn't allowed. Wearing the right clothing and taking a jacket and hat with you is essential. So is quality sunblock for preventing sunburn.
Make sure that you are choosing the hike that is most suitable for everyone in the group. Especially, when you are hiking with children. Taking water with you is also a must. But, remember that you can't damage any of the plants or litter anything while you are hiking. Take your stuff with you at all times.
Conclusion. Unique garden with a variety of things to see
Don't underestimate Kirstenbosch Garden. This isn't anything like other botanical gardens that you have seen before. This is a 100-year-old garden with some of the trees that are a similar age. The canopy walk is also something that you will not find at another botanical garden. You will be able to find a restaurant, shop and even a bookstore in the garden. There is nothing better than to read a book in the quiet garden. The garden is so huge that you can choose one of a couple of hiking trails to see the most of the garden. Making this a unique experience that every international tourist should consider.
Kirstenbosch Garden. A botanical garden with a difference. Something that you should see for sure. Even, if you don't like walking through botanical gardens. This garden is completely different. Especially with the new canopy walk, The Boomslang, that was opened to the public in 2014. And, if you think that you will be able to see the whole garden in an hour or so, then you are mistaken. This is a huge garden and it needs a couple of days, to get through the whole garden. But, this is going to be an experience of a lifetime.