Cape Town. Known for Table Mountain, the friendly people and a place that is rich in culture. However, the one thing that might surprise you is the beautiful beaches they have in and around Cape Town.  Some of these beaches might be popular beaches that everyone is going to.
But, some are secret beaches that not many people are aware off, and that not many people know about.  If you are planning a trip to Cape Town, to relax at one of their most beautiful beaches, then you should read here. Here are some of the most beautiful, surprising beaches you can visit in Cape Town. And, with each beach, you will have a different experience. This is what is making these beaches so special.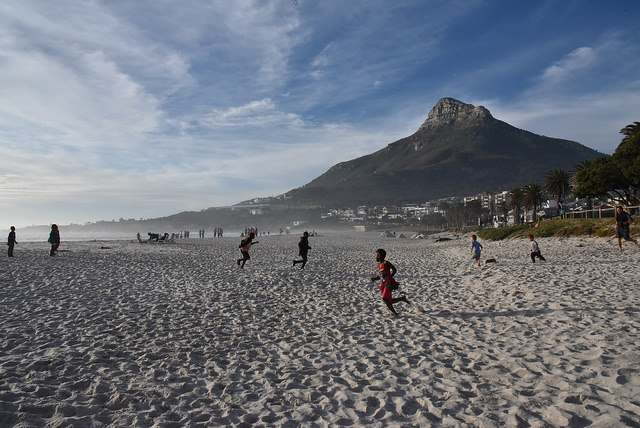 BetaBeach – Bakoven
The thing about Cape Town beaches is that they crow. Mostly because of the high number of tourists that you will find in Cape Town. There are people that are looking for a beach that isstill really beautiful, but not full of tourists.
This is the type of beach that you want to still find the beauty, and not struggling to find a seating on the beach. The BetaBeach – Bakoven is one of these beaches. This is a secret to most localsbecause tourists don't know about this beach. Making this beach secluded, beautiful and peaceful.
The BetaBeach is a tiny beach that hasa great view of Lion's head. You just might think about hiking to Lion's head. During the weekends the beach is a bit busier than on weekdays. But, definitely,a place to visit if you are looking for some peace and quiet. And, with the view of Table Mountain, you will be able to understand why South Africans love Table Mountain and why they are saying this isAfrica's number one tourist attractions.
Smitswinkel Beach
Smithswinkel Bay at False Bay is a beach that people know about. But, because of the hike to the beach, most people prefer to look for another beach. Making this beach secluded from the rest.
You can see the beachwhen you drive past it, but not many people want to stop and take the hike down. But, they don't really know what are missing. Everyone knows the saying that when you work for something the reward is bigger. This is the same with this beach. You might need to hike to the beach, but at the end of the day, it is going to be worth it.
The beach is surrounded with mountains and clear ocean. It might not be toosafe in, but you will find a variety of surfers and divers there. Divers and surfers know the importance of not enjoying the water witha huge crowd of people. This is why they choose to come to False Bay. They found the beauty of the beachand making the most out of the beach that isn't overcrowded.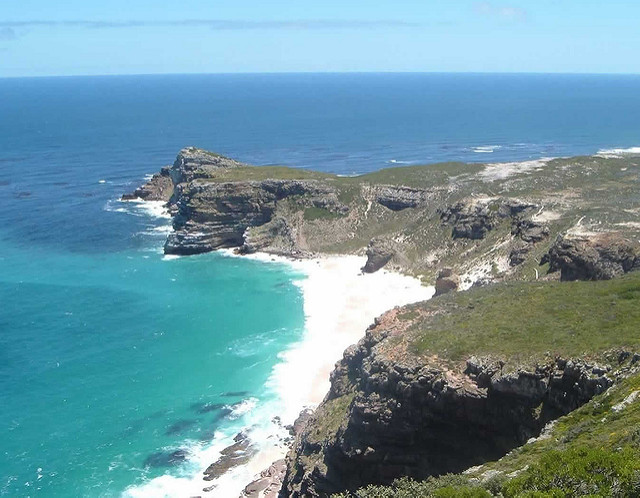 Platboom Beach – Cape Point Nature Reserve
Platboom beach is one of the beaches in the Cape Point nature reserve park. You might need to pay for visiting this beach because it is in the nature reserve park. But, there are everything is still clean, and you will hear and see birds everywhere.
You aren't prohibited from swimming here, but you are swimming here at own risk. There aren't any lifesavers and there aren't any shark nets here. However, until now there weren't any reports of danger when you are swimming there.
If you love to see the birdlife and you want to see as many birds as possible, then the Platboom beach is the ideal place to go. Because the beach is secluded in the nature reserve, people don't disturb the birds and they are flying freely here.
Sunset Beach – Blouberg
With Table Mountain on the one side of the beach and a partialview of Cape Town, this Cape Town beach is definitely number one when it comes to the most beautiful beaches.
The beach isn't named Sunset beach for nothing. This is a beach with the most beautiful sunsets and ideal for a romantic picnic on the beach. The best part of this beach is that not many people know about the beach. It is not a busy beach. Even, during high season the beach is relatively calm. This is picture perfect and a beach that you need to search forwhen you are visiting Cape Town again.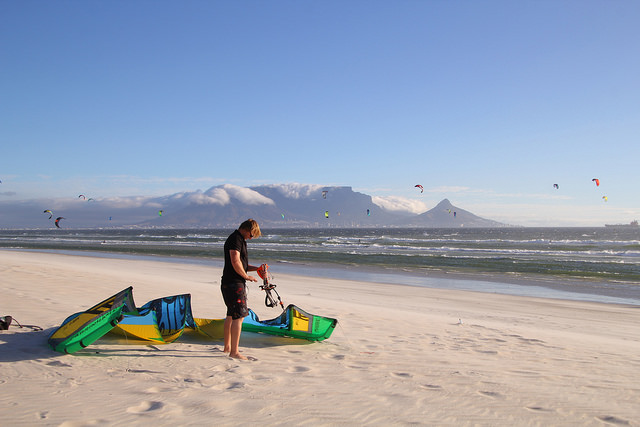 Water's Edge – Simons Town
The entrance to this Cape Town beach looks like a private beach. However, this isn't a private beach. Anyone can enjoy the beach and will have as much fun as possible relaxing in the sun, or diving and surfing without wondering about the crowd.
Water's edge in Simons Town is a secret that locals don't like to reveille. So, if you are looking for a beach that isnot busy, and that hassome of the best views, then Water's edge is the place you need to look for. The entrance of the beach lookslike a private garden with beach access. However, this is actually a public beach which is free to visit and to enjoy a day at without wondering if you are at the right spot and wondering if you are going to get chased away from the beach.
Blouberg & Big Bay
If you are a kitesurferor just a beach walker, then the Blouberg and Big Bay beach is the beach for you. This is a popular beach, even if it isn't crowdedat all. This is why it is a great place for kitesurfingwalking on the beach or for swimming. Don't forget about the children that are running and playing in the sand and in the waves.
The one thing that you need to know about this beach, is that this isn't the place for youif you like to have lots of people around you. Parking won't be a problemhere, because there are lots of parking on Otto du Plessis drive.  One thing that you will also see here, is that many dog owners are taking their dogs to this locationif they want to give their dogs a great workout. They won't need to worry about what other people are going to say when there are dogs running all over the place. The only thing that you should remember, is that you should clean after your dog.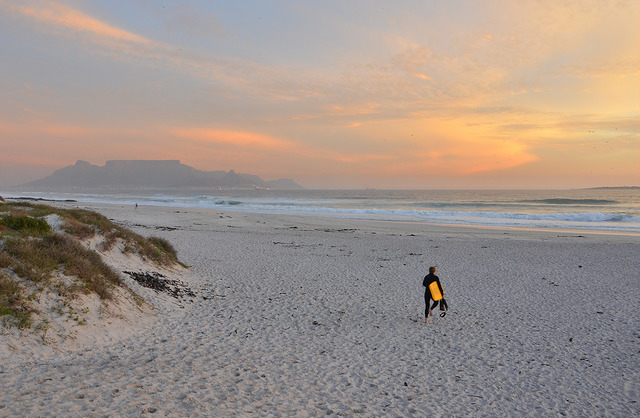 Camps Bay
This is one of the most popular beaches in Cape Town.  This is the beach that people want to be on. Camps Bay isn't a secluded beach like some of the other beaches mentioned here. However, this is a beach that is near everything. You can go shopping, to a restaurant or just walking around. You will always be near the beach. There are also a variety of activities that you can enjoy in the area. You can hike, visiting the market or just browsing around. This is also the beach where the rich and famous are staying in the 5-star hotels.
Families like going to this Cape Town beach, because of the amenities that they are offering here. You will be close to shops, restaurants, andbathrooms. Making this a really great place to visit. The only thing that you should know about this beach is that it can get really crowded during high-season.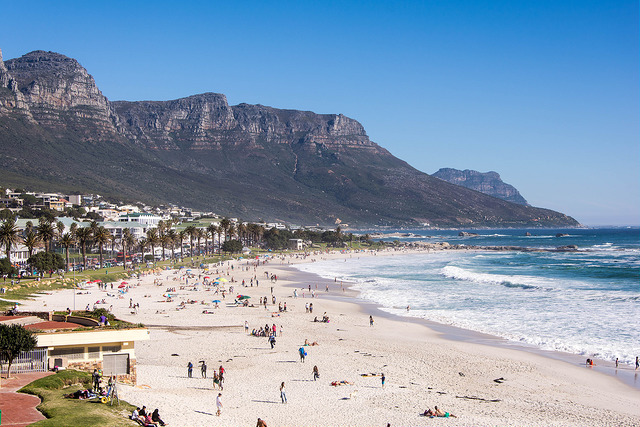 Strand Beach
Strand beach is a well-known beach in the Cape Town area. This is because not only is this a beautiful beach with great views, but it is a family beach that issafe and secure as well. During the summertime, this became one of the more popular beaches to swim in, but during the winter time, this is a great beach to take long walks. Fishing is also a popular activity that you can enjoy on this beach. Especially in the rocks.
Strand beach is between Bikini beach and Macassar beach. Giving you a great view, no matter where you are looking. This is also one of the beaches that people are telling is the cleanest in the whole area.
Conclusion
It doesn't matter if you are visiting the BetaBeach, Strand beach, Blouberg beach or Camps Bay. You will not be disappointed. There are really some great tourist attractions that they can see and experience at the Cape Town beaches. The one beach that you should not forget about is Camps Bay. This is because the beach is popular and situated in a prime spot.  It is in a place where you can find the best food, the best nightclubs and some enjoyment for the younger children.
Cape Town beaches. There is definitely more than one beach that you can go to during a nice, sunny day. However, the above-mentioned posts, the beach are a bit crowded during the summer days. But, if you are going to the right type of beach, you will know exactly why this is a popular beach to go to.