India Venster safety and difficulty
This blog discusses India Venster safety and difficulty and is written by a qualified guide from Hike Addicts. Hike addicts is a local Cape Town company that specialises in guided hikes up Table Mountain.

India Venster is one of my favourite and most recommended hiking routes up Cape Town's Table Mountain for several reasons. It is one that I personally like to describe as fun and adventurous, with mind-blowing views throughout. But, is it dangerous? Is it difficult? Is it safe to go without a guide? These are questions that travellers and local hikers eager to try the more exciting routes up Table Mountain commonly ask.
As most of us know, finding reliable information on the Internet can be hard. In this case, there are so many different opinions and articles online about the India Venster route. This is probably because people are different and those who have hiked India Venster have different opinions. These opinions are based on their own adventure thresholds, fitness and experience hiking in Cape Town, which can mislead others.
India Venster safety information
I will get straight to point. If you have acrophobia, then you almost certainly won't enjoy this hiking route up Table Mountain. Now, sure, I have guided people who've been a little scared of heights up this route before and it worked out fine. With some help and encouragement, they made it up the mountain. However, if you really don't have a head for heights, then an India Venster climb is not for you. Consider another route.
It's important to know what you are getting yourself into before hiking this route: a challenging hike. There are steep sections on India Venster Table Mountain and it can get tiring. There's some thigh-crushing work on these steep sections at the beginning of the hike. Fortunately, there are sections that level out on the India Venster trail. This allows hikers to take in the awesome views over Cape Town after catching your breath.
The total distance of the India Venster hike is approximately 2.5 kilometres, with a total elevation of 670 metres. The hike up Table Mountain generally takes three or so hours to complete. This time estimation factors in rest breaks on the trail, a moderate hiker fitness level and, of course, India Venster safety.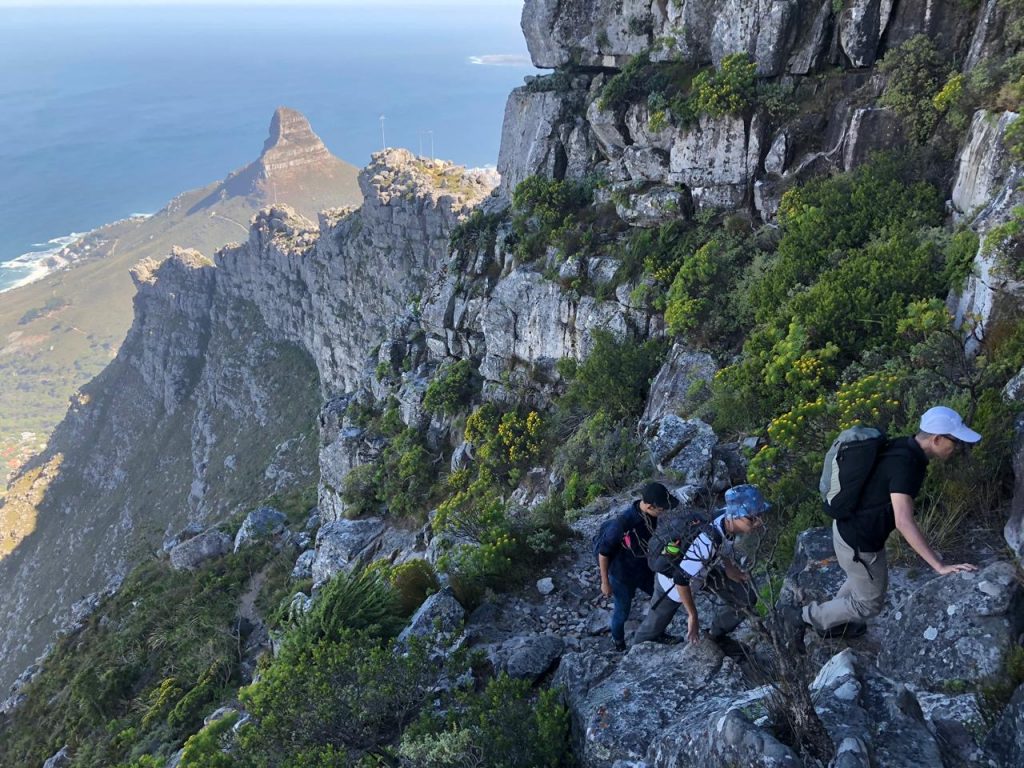 How difficult is India Venster?
When it comes to difficulty on India Venster, it pretty much boils down to India Venster scramble on the hiking route. Scrambling refers to walking up steep terrain using your hands. You do not scramble up the entire way on India Venster, as some believe, but there are various sections where you will scramble over rock faces on the trail. You must be relatively fit for this route and have a bit of upper-body strength to pull yourself up.
The scrambling may be tricky for some people. For others, it's not tricky at all. It depends on the individual. I have guided a 10-year-old boy and a 59-year-old woman up the India Venster route before. My mother and her friend, both in their 70s, hiked this route just the other day. Granted, they are exceptionally fit.
After hikes, I always ask the group members what they thought of the scrambling. Normally, they say that was the best part! It's just a matter of hiking with India Venster safety in mind. I'll admit, there have been climbers that huffed on the way up but when they reach the top, they feel a great sense of accomplishment.
Traffic and weather on Table Mountain India Venster
India Venster is not usually crowded. Local hikers do use it, though, so you may encounter people when hiking the trail. This is not a Table Mountain hiking route that amateur hikers should attempt alone. Be sure to go with a professional India Venster guide or a veteran hiker familiar with the route if it's your first time.
The route can be confusing and getting lost is a common occurrence on the India Venster trail. Even in good weather, experience hiking this demanding route up Table Mountain is necessary. While I have seen first-timers hike India Venster and make it up, I have also seen a lot of folks get lost and not make it.
Table Mountain is known for its unpredictable weather and extreme temperatures, as well as strong south-eastern wind and cloud cover. These can be dangerous, especially when hiking the India Venster hiking route. Naturally, you will want to take precautions for India Venster safety. See Table Mountain weather advice.
Want more information on the safety and difficulty of hiking India Venster in Cape Town? Contact us! If you'd like to book an India Venster Table Mountain hike, then you can do that now through our website.