It is important to understand the various Table Mountain hiking routes and their difficulty levels as you do not want to get yourself into something that you are not going to enjoy, or even worse, not capable of doing. However, at the same time, you really don't want to miss out on something that you may be interested in.
There is a lot of general words thrown around the topic of difficulty levels when hiking Table Mountain is described; moderate, challenging, difficult, easy, but which aspects of the hike are they actually talking about? Well, there are many aspects to take into account and that is why it is important to research routes carefully and pay attention when reading the hike description. Just because a hike may be described as easy, it doesn't guarantee that it is so because the description may be talking about the technical aspect and it doesn't necessarily mean that it won't be physically challenging or the other way around.
Physically there are no easy routes up to the very top; however, there are plenty of hikes around the foot of Table Mountain and along the Table Mountain National park that does not reach the summit. If you are looking for an easy hike, you'll be sure to find them here.
You do of course get the very technical routes that involve climbing and exposure to big drops that can be considered dangerous and would score a high difficulty level, but we won't get into that because this article is aimed at the difficulty levels on the regular hiking routes of Table Mountain. The technical routes, however, are another ball game altogether.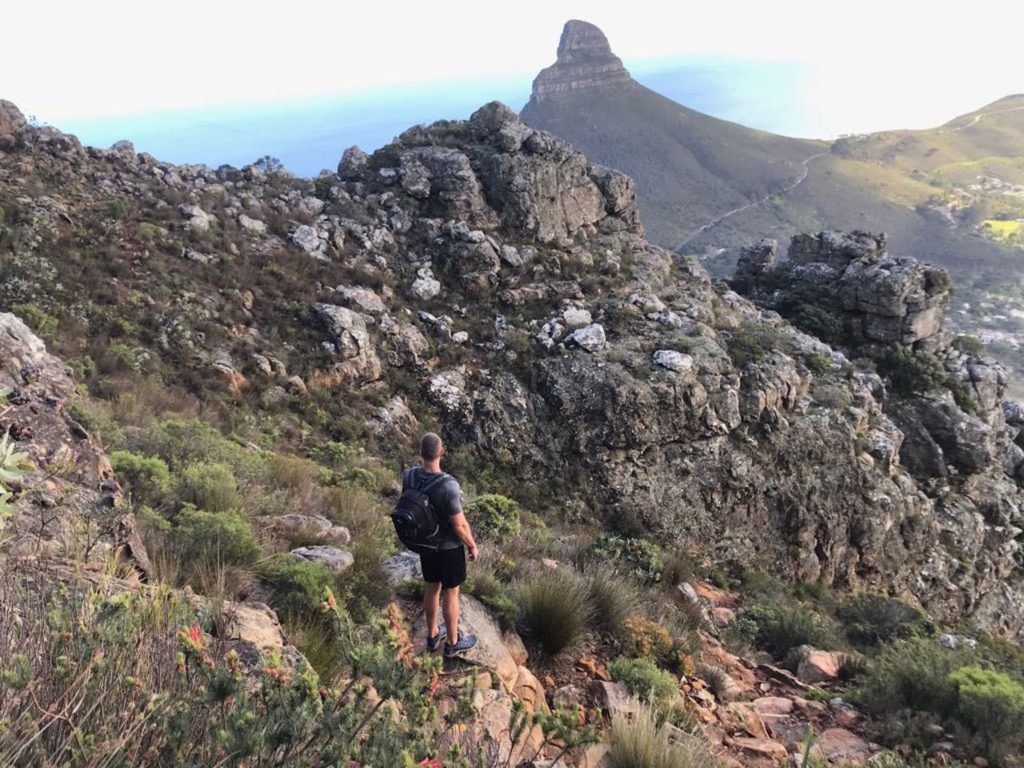 Fitness levels
Often when someone asks if hiking Table Mountain is difficult, what he or she is really asking is, "is it going to be physically tiring?" So let's talk about fitness and hiking the mountain.
The answer to your million-dollar question: Do you need to be fit to hike up Table Mountain? Quite frankly, yes you do. Table Mountain is steep and although some routes are not as steep as others you will still need to be relatively fit to enjoy a hike to the top.
The shortest hikes up the front face of the mountain is also the steepest, therefore not the easiest, but they take less time. While various full day hikes up Table Mountain may be a little more gradual they take longer but may be more enjoyable on the ascend.
Terrain
When it comes to difficulty levels and terrain, fortunately, the more regularly hiked trails on Table Mountain stay on the trail. These routes are hiked regularly and local hikers and park officials have done well to keep them maintained along most parts. However, you may still experience loose rocks and movement along the way, especially after bad weather in the winter months.
Hiking Table Mountain in wet weather and the slippery terrain is another story altogether and the difficulty level of the hike will increase drastically; therefore it is important to understand this and take the necessary precautions. The rocks can get very slippery and caution must be taken. One of the easiest routes down Table Mountain like Platteklip Gorge can then become more technical and very slippery if the mist or rain comes in.
Scrambling
Scrambling is where it gets a little trickier and here it is important to know the difficulty level of the route or more accurately the scrambles on the route.
Scrambles are graded accordingly indicating the difficulty level, but on the regularly hiked routes on Table Mountain it often boils down to one's ability to handle heights. Although you do need a little upper body strength and a good level of coordination, it is generally not the physical side of the scrambling that is difficult for people; it is, in fact, more the exposure to heights that makes it hard.
Regular scrambling routes on Table Mountain vary from minor scrambling along the rocky river bed on Skeleton Gorge to more advanced scrambling up India Venster using staples and chains. Although these scrambles are graded determining the difficulty level on these routes, it really boils down to the individual and your ability.
The height factor
Difficult or not if you are afraid of heights, suffer from vertigo or similar you are going to want to take caution and pay attention when judging the difficulty of a route, consult with a guide and seek assistance beforehand. To be honest with you, I have been completely shocked at how frightened some people get when being close to the edge and I have really learned a lot about people and their fear of heights from my days of guiding on the mountain. If you are scared of heights stay away from the more technically difficult routes as you will generally be scrambling over exposed areas. Plan your hike with a guide if you would like to take part in a scrambling route on Table Mountain.
Navigation
The easiest route to navigate on Table Mountain is Platteklip Gorge. Not only is it the easiest to navigate but also the most boring and least scenic out of the lot. The saying 'The best rewards come from the hardest climb' is really true and meaningful when we look at the routes on Table Mountain.
Good navigation plays a vital part when hiking the more adventurous routes on Table Mountain like India Venster. India Venster is difficult to navigate and can be dangerous if you do not know the way. Stay safe on Table Mountain, many people has been rescued on this route due to lack of knowledge and poor navigation. If you would like to hike the routes on Table Mountain with difficult Navigation levels you will need to hike the route a few times with a guide or experienced hiker first.
Our most recommended easy route up Table Mountain.
If you are looking for a route that is classified as easy and would like to hike Table Mountain, our most recommended route is Kasteelspoort to Table Mountain summit. The route is not physically easy, as pointed out earlier all routes to the top are physically challenging, but it's not very technical at all. Although there are 3 ladders on the route, generally they are easy for people to climb. This route boasts amazing views and scenery throughout.