Constantia is one of South Africa's oldest suburbs and well known for its wine lands. However, besides the rich heritage in wine manufacturing, Constantia is also one of the leafiest areas in Cape Town. Over the years, the region has also become a sought after residential area with many good schools, amenities and excellent family homes. It lays only a mere 20kilometres from Cape Town, making it accessible and easy for travelling back and forth. Constantia has extraordinary views and a visit to this age-old wine region will not only prove to be educative and inspiring but also packed with adventure and fun.
Constantia has many outdoor activities such as hiking and walking routes.  A visit to Constantia cannot go without a wine tour of one of their prestigious wine estates. Some include but are not limited to Eagles Nest, Buitenverwachting, Steenberg Vineyards, Constantia Glen, and Silvermist Vineyards. Constantia is big on great cuisine and offers plenty of eateries that cater to the whole family, including fine dining specialty. When it comes to shopping, Constantia has something suited to everyone's needs.

Wine tasting rooms and estates in Constantia
Constantia has a rich heritage and the wine estates in this region bore witness to some of the very first wines produced in South Africa. The heritage of Constantia highlights how passionate the founders of these wine estates have been and their ability to create world-class wines. It's long history of wine manufacturing has given it the fond name of being the cradle of winemaking. Constantia's wines have a blend of French and Dutch influence that has brought world-renowned fame to this region of South Africa because of the popular sweet wines produced here.
Due to the variety found in the Constantia wine region, you can be certain, there is something great to be discovered. With a variety of wine tasting rooms, shops, and estates offering their own specialties, visitors can simply explore and enjoy at leisure.
Some wine tasting rooms offer vintage charm and all wine estates have their very own produced wines on sale to the public. Take in the magnificent surrounding views as you enjoy some of the region's best selling wines and food pairings.
Some of the wine estates in Constantia are active working farms that cannot cater to pedestrians. However, because of the variety and so many farms and estates, there are still plenty to choose from, and you need not feel disheartened if you don't have full access to explore.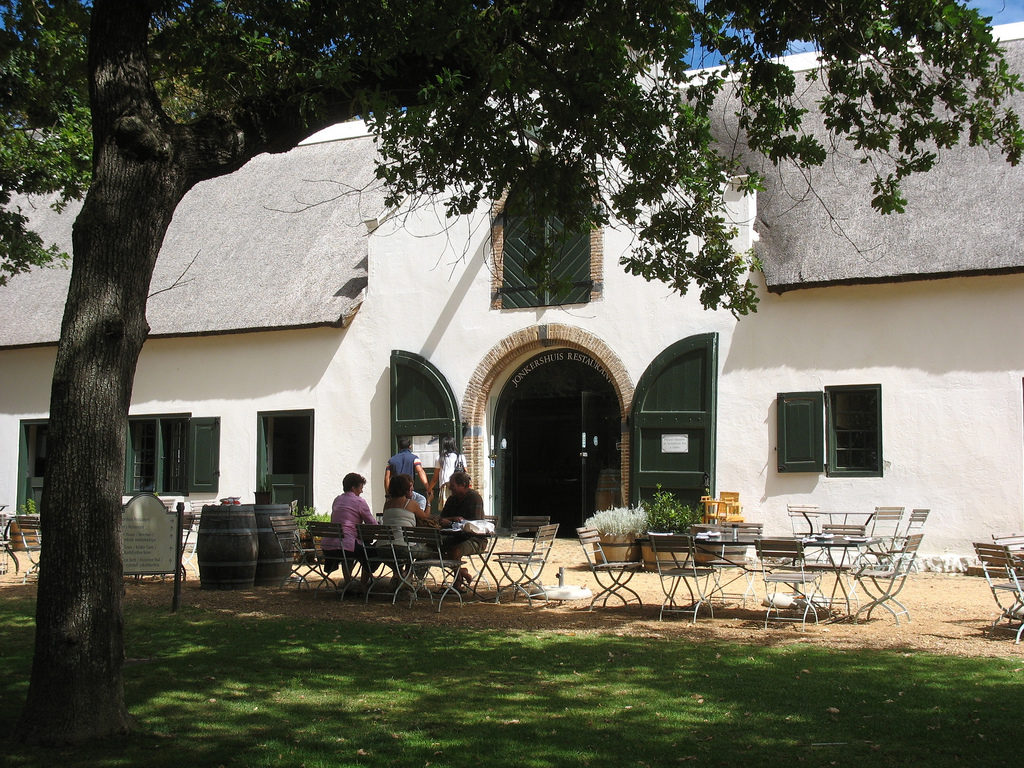 Groot Constantia estate
The Groot Constantia is one of the oldest wines estates within the country and later divided into three estates. The original farmhouse was built by Simon van de Stel and had suffered a devastating fire, but in later years restored.
Klien Constantia 
Klein Constantia wine estate was born from its parent estate Groot Constantia. The wines estate features beautiful vineyards and scenery as well as many things to enjoy. This estate is known for being the home of fine red wines and restaurants.
Constantia Uitsig wine estate
Constantia Uitsig wine estate celebrates sustainability and comes from a long heritage of winemaking techniques. Visitors can enjoy great foods and outdoor activities.
Eagles Nest
Eagles Nest is nestled by the Constantia Valley and is surrounded by picturesque views all around. These lands produce some of this region's award-winning wines displaying the vast flavours of the Constantia wine region's cultivars.
Buitenverwacht
Buitenverwacht is enjoying excellent mountainous views of the Constantiaberg Mountain and has roots dating back to the 1700's. The wine estate has been cherished by several families who worked hard at creating a wonderful place manufacturing great wines and providing visitors with great hospitality.
Steenberg Vineyards
Steenberg wine estate produces wines that include Methode Cap Classique, Semillon, and Merlot to name a few. From great wines and great foods, the estate is also celebrated for their wine tasting and tours.
Need to see and know more? Why not book a tour of Constantia in the Cape Winelands and enjoy a satisfying self-experience with your very own memories.
There is plenty to see and do in Constantia
Constantia is one of the Western Cape's most green areas with lush fields sprawling on for miles and miles. The vineyards open up to meet the mountainous backdrop, painting the perfect picture on any day of the year. A visit to Constantia will allow you so much opportunity to explore the surrounds, and indulge in some great activities. Constantia is home to a selection of bars, music festivals, live shows, nightclubs, and eateries. If you want to wind down and relax a visit to Constantia wine region also has wellness spas and cultural activities that will help you energize and disconnect from stress. Accommodation in Constantia is magnificent with some of the most luxurious, chic establishments in the country. Constantia is a large suburb and offers everyone something to suit their needs. Outdoor activities are always a wonderful option because of the regions natural beauty. Whether you're walking your dog, cycling, running, hiking, having a picnic or exploring some of the Nature reserves, you are bound to enjoy yourself.
A visit to Constantia valley provides you with superb outdoor activities and is a nature lover's delight. Evergreen rolling hills of vineyards, mountain views, and simply some of the best features nature has to offer in the region of South Africa. Constantia is also big on indoor activities and a visit here will afford visitors the lovely opportunity to enjoy the following:
Great restaurants and cuisine
Deluxe wine tasting
Food and wine pairing
Horseback riding
Hiking and walking trails
Adventurous sports
Shopping
Health and wellness spas
Constantia is a great destination for functions including corporate and private events. It provides beautiful accommodation for large and small groups as well as single travellers. Here are some of the regions beautiful wine estates to discover upon your visit.

Tours and wine tasting 
It's always great to go out and explore what nature has to give on a firsthand basis. You can do exactly that with a Constantia wine route tour, which will take you deep into the world of winemaking and beyond! However, while enjoying the sights and scenes of this nature-blessed region, taking the liberty to tour with an established tour company can give you a better experience. With a guided Constantia wine route tour, you see, learn and enjoy new memories throughout the time. Wine tasting tours will give you the liberty to try some of South Africa's best produced wines on selected wine farms in Constantia. Delight your senses with some amazing food and wine pairings as well as excellent cellar wine tours.
The history of winemaking in Constantia
Wine manufacturing is one of the oldest practices in Constantia and dates back to the 1680's. Being one of the oldest wine regions in the country also makes it fondly known as "the cradle of winemaking". The Constantia region is so large and rich with fertile soil, several wine estates roots began on these very lands. Simon van de Stel's influence brought about the foundations of Groot Constantia, which is literally one of the oldest wine estates in the country. During the years that followed, Groot Constantia expanded creating the other wine estates that we see today.
Constantia's wines became popular since the 18th Century and enjoyed by prominent royal families and icons throughout the world. One of the most popular wines that famed Constantia is the sweet wines known then as Constantia Wyn or in English "Constantia Wine". Simon van de Stel manufactured the very first Constantia Wyn in the late 1600's. Despite the devastating destruction of many of the vineyards to phylloxera, which ended the renowned wines, not all hope was lost. A new beginning dawned in 1980 when Duggie Jooste bought Klein Constantia. He collaborated with renowned winemaker Ross Gower and Professor Chris Orferr to re-create the old legendary dessert wine and renamed it, Grand Constance. Grand Constance is one of the most internationally famed wines made from Muscat de Frontignan and produced in Constantia.

Wines from Constantia
Sweet wines have always been part of Constantia's heritage and lives on to this day.  In a Constantia wine tour, you'll discover everything from the refined craft of wine manufacturing, wine pairing, tasting and lots of history. Constantia has varieties for red and white wine manufacturing and some wines produced in this scenic region include:
Merlot
Shiraz
Cabinet sauvignon
Méthode Cap Classique
Sauvignon Blanc
Where to stay in Constantia
Some amazing accommodation options to enjoy while getting comfy in this world-renowned country region include but are not limited to:
5-star luxury
The Last Word Constantia
Nova Constantia Hotel
Silvermist Mountain Lodge
Stillness Manor and Spa
Boutique hotels
The Cellars-Honenort
The Andros Boutique Hotel
Vineyard Hotel
The Alphen Boutique Hotel
Wine estates
Steenberg wines estate
Constantia River Cottage
Constantia Mist Cottage
B&B and Self-catering
Summit Place Guest House
Fourfurlongs
Bell Cottage
TreeTops Self-catering
Constantia guestroom/B&B
Getting to Constantia
Travelling is quick to the main city centre in Cape Town because of its close proximity, which makes staying in Constantia quite a suitable option whether permanent or simply on holiday. Planning a special occasion and looking for a venue? Constantia wine route has it, whether it's a wedding, anniversary, birthday party or work function.
Constantia lies very close to Cape Town's busy central, but even though it's only less than 45 minutes away, it still provides that magnificent country escape from the bustling city. Travelling with your car is simple and here are two easy routes to follow. The estimated time of arrival can be influenced by the amount of traffic on the road, so heavy road works can increase the time to arrive at your destination.
Via the M3 (estimated 22 minutes drive)
Via the M5 (estimated time 30 minutes)