Discover Constantia Wine Route in Cape Town
A visit to Cape Town will not be complete without a tour of the Constantia Wine Route. From astounding landscapes that will take your breath away to world-class wines that cannot be denied. Tucked away on the foot of Table Mountain's eastern slopes, Constantia leafy suburbs and wine estates have it all.
The Constantia wine route in Cape Town hums with the serenity of the sweet countryside. The unspoilt lustre of green rolling hills and valleys undeniably make Constantia the perfect escape from the bustling city centre. In a mere 15 minutes drive from Cape Town are the gems of historically acclaimed wine farms with vineyards dating back to 1685.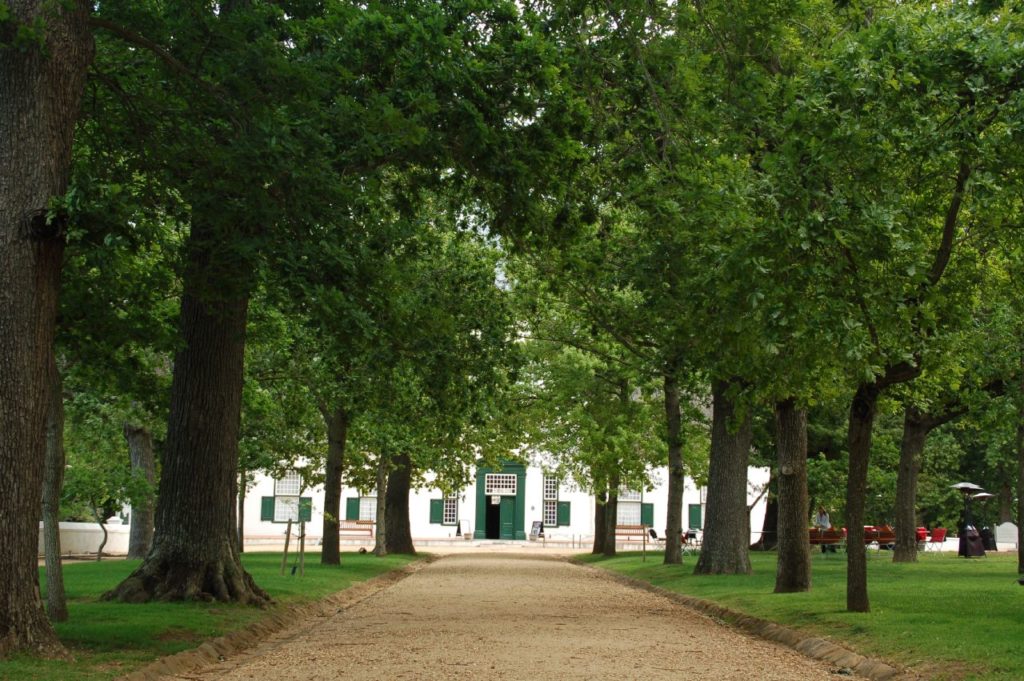 How it all began
Simon van de Stel, a Dutch Commander overseeing the Cape had the idea to plant some vineyards starting from Groot Constantia during the late 1600's. He also converted the grounds into farmlands for vegetables and cattle but after his death in 1712, the lands were divided into three namely Groot Constantia, Klein Constantia, and Bergvliet. The old manor house that van de Stel built and part of the estate was later in 1779 sold to the Cloete family who continued to plant even more vineyards as well as make extensive improvements and architectural changes to the mansion.
Today the manor house forms part of the Groot Constantia trust and is managed by Iziko Museums of South Africa.
What you can experience when taking a tour of the Constantia Wine Route
It's here where you will discover some of the best wine farms in Cape Town, South Africa including the likes of the following:
Steenberg wine estate
Steenberg wine estate in Cape Town is famed for its Sauvignon Blanc variety as well as its ever-popular in-house Bistro Sixteen82 which is one of the world's top 20 wine restaurants. Steenberg wine estate is equally loved by locals and tourists alike.
Constantia Uitsig
Constantia Uitsig is rich with history and biodiversity. Here, you can enjoy the South African heritage that dates back to 1685
Buitenverwacht
Buitenverwacht is translated as "beyond expectations" and this exactly what you can experience at this wine estate in Constantia, Cape Town. It spans over 150 hectares of land where the Mueller family took over in the 1980's, restored it, and expanded on its historical splendour.
Klein Constantia
Klein Constantia not only thrives in prolific history but also popular for its world-famous dessert wines.
Groot Constantia
Groot Constantia was one of the original wine farms established in the late 1600's producing award-winning wines in Cape Town.
There are also the stunning likes of these magnificent Constantia Wine farms; Eagle's Nest, Constantia Glen, Beau Constantia and Silvermist Vineyards. Each of these gorgeous wine farms in Cape Town has their signature wines, unique history, and an amazing staff that helps keep things fantastic while giving you a one of a kind experience of the Constantia wine route and all you can enjoy.
Try some wine!
What's a wine tour in Cape Town without some amazing wine tasting opportunity? With all these wine estates to choose from, you're absolutely spoilt for choice. These Cape Town wine estates offer fantastic wine pairings, wine tasting, and mouth-watering foods from the various renowned restaurants such as:
The Brasserie
Jonkershuis Constantia
Green Vine Eatery
La Colombe
La Parada
Harbour House
Fox Croft
Catharina's Restaurant
The experience doesn't end here: Explore some more on your Constantia tour
Another great thing about the Constantia wine route is that there are always plenty of extra activities to do. There is such variety if you're looking to get more out of your tour such as shopping, cycling and of course wine tours to enjoy even more wine tasting. Business groups can also delight in the unique amenities like accommodation on the estate, team building experiences and conference halls.
Don't miss the beauty of the Constantia wine route. Get your family, friends, and everyone to join in on the fun and heartwarming excitement of pure history, grandeur and simply a great time and place to remember.
Contact us and explore the wine region of Constantia, Cape Town today!