Sanbona Wildlife Reserve
Sanbona Wildlife Reserve is in a league of its own. Sanbona is only a 3 hour drive from Cape Town and here you will experience wildlife, nature and pure magic. This private wildlife reserve is home to the big 5 other magnificent wildlife and birdlife. The setting here is indescribable and Sanbona offers exclusive experiences from explorer camps to luxury lodges
About Sanbona
Sanbona is a private wildlife reserve situated along route 62. The longest wine route in the world. It only takes 3 hours to drive to Sanbona Wildlife Reserve from Cape Town and it is located in the Klien Karoo, one of the most diverse areas in South Africa. The reserve is 58,000 hectares of exquisite wild landscapes and folding mountains. Sanbona is full of wildlife, fauna and flora and even rock art that is going back centuries. Once upon a time the San Khoi tribe roamed these very landscapes contributing to the name, Sanbona.
Sanbona Wildlire Reserve is the closet free roaming big 5 reserve to Cape Town and is the only place in the world that is home to free and self-sustaining White lions. The game drives are 3 hours long and drive through 3 different biomes. Wildlife that you might see at Sanbona are elephants, lions, cheetahs, zebras and a huge selection of buck species. There is also a magnificent selection of birds that you can see on the safari and at the lodge. The game drives at Sanbona Wildlife Reserve are the highlight of the trip, but it doesn't stop there. Sanbona offers a wide selection of incredible activities and experiences out in the wild and in the retreats.
The meals are impeccable and the service and hospitality at Sanbona are in a league of their own. The three luxury lodges to choose from are again a step above the rest. There is also the Explorer camp, which is a two day journey for the more adventurous. For this option you are taken out into the wild on a walking experience, where you will stay in luxury tents completely off the grid.
The Safari Experience
Once you arrive at Sanbona Wildlife Reserve you will be blown away as you get welcomed into the lodge. Check in, lunch and a tour around the lodge is on the cards. You will have some time at leisure to explore or relax for that matter and then it will be time for your first sunset safari drive. After some magic in the bush, it's time to freshen up and get ready for dinner.
In the mornings the staff will make sure that you are awake and ready to go and the day will start with a sunrise safari drive. There are two safaris per day, one at sunrise and one in the evening at sunset. You will be served 3 meals a day and during the rest of the day, you can enjoy the other experiences that the reserve has to offer. You can walk the trails, watch the different birds, go and see the rock art or relax at the retreat. During the safaris, you will have coffee at sunrise and a sun downer at sunset. At night after dinner, you can enjoy the sounds of African nights and you can watch the stars. You will be surprised about how different the stars look at night, at the reserve.
Your last day at Sanbona Wildlife Reserve will again start with a sunrise safari and breakfast in the lodge. Then it's time to relax before your leisurely check out and departure.
Activities At Sanbona
The activities and guided experiences at Sanbona Wildlife Reserve are truly magical and give you the opportunity to experience this beautiful wildlife reserve to its true potential. Each and every activity has something extraordinary to offer. The rock art excursions take you back to over 3500 years ago and tell stories of the San and Khoi-Khoi tribes. The Sanbona boat safari takes you down the Ballair dam to view the wildlife and the 40 different bird species which call this dam their home. When you aren't on the safari, you can consider going on the guided nature walks to explore the flora and fauna. There are walking and hiking trails to suit all levels of fitness or you can relax and enjoy a range of treatments at the relaxation retreats. Sanbona Wildlife Reserve is a true haven for photographers with the ideal lighting over the magnificent landscapes, wildlife and awe-inspiring sightings.
Please note some activities are seasonal and the boat safari runs due to water levels. Children are welcome at Sanbona Wildlife Reserve and can enjoy the Kids on Safari program. However, children under the age of 4 aren't allowed to go on the safari drives. This is for safety reasons.
Essential Information
The safaris and the additional activities at the reserve are included, except for the SPA appointments that you make at the retreats. Meals are included, but your drinks are excluded.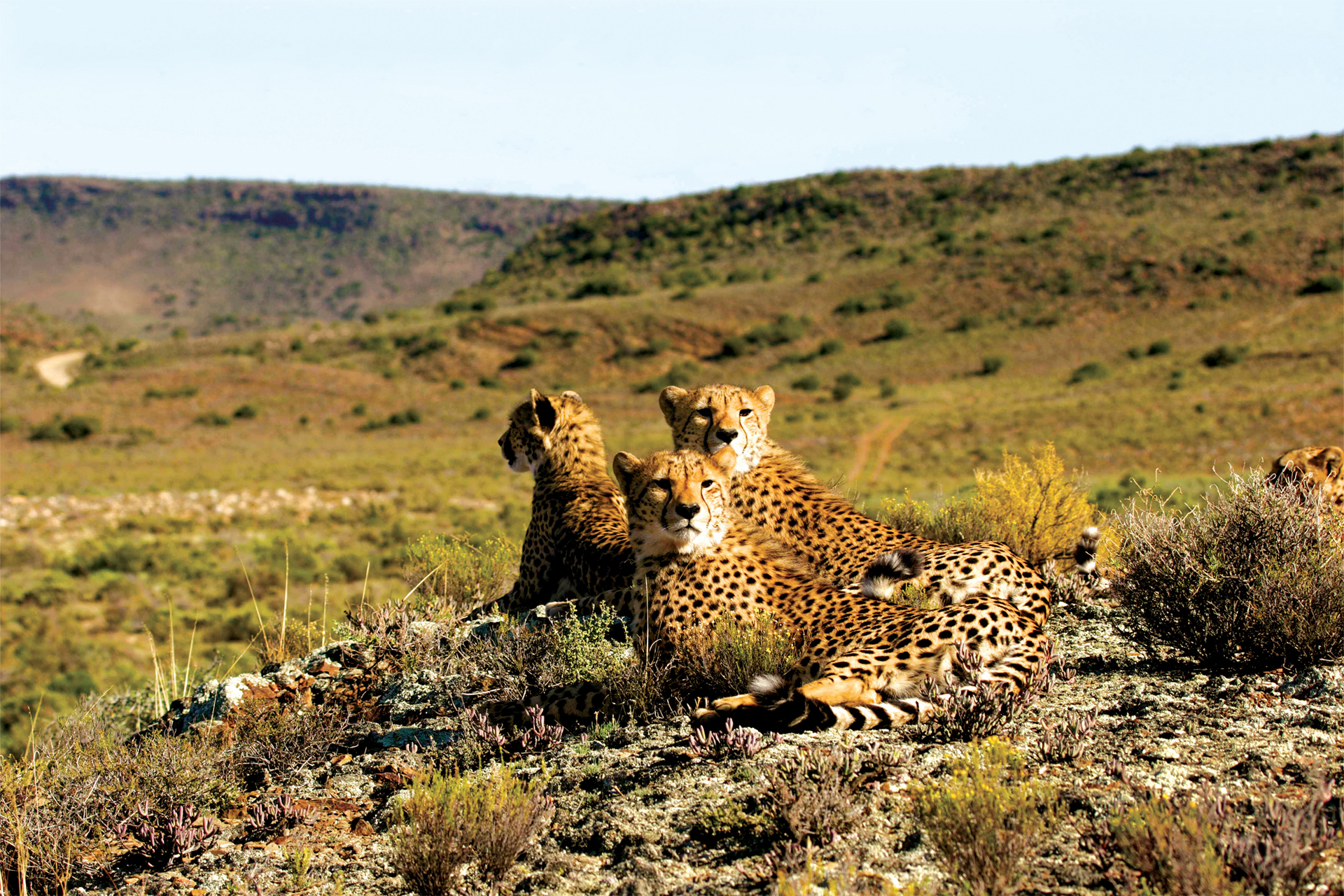 Itinerary
ARRIVAL DAY:
Check in
Welcome drinks
Lunch
Sunset game drive
Dinner
FULL DAY:
Sunrise game drive
Breakfast
Time at leisure
Lunch
Optional extra activities
Sunset game drive
Time at leisure
Dinner
DEPARTURE DAY:
Sunrise game drive
Breakfast
Time at leisure
Checkout
Location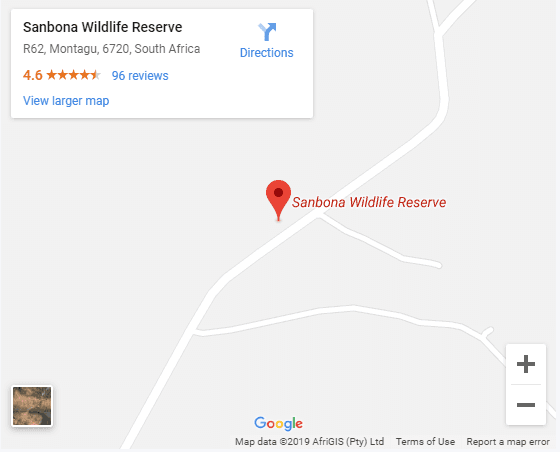 Getting There
Drive from Cape Town along the N1 highway and then onto Route 60 and Route 62. The drive takes 3 hours. Transfers are regularly arranged on request.
Accommodation Options
For a wilderness escape in the Western Cape, with great accommodation options, Sanbona Wildlife Reserve is the place to consider. Each accommodation option is offering a unique experience under the South African skies. You have four different options to choose from.
Tilney Manor
Price

R6575 – R11235 per person, per night
Sleeps

2 Adults
Includes

2 x Big 5 game drives, lunch, dinner & breakfast
Excludes

Transfers
Dwyka Tented Lodge
Price

R7400 – R11835 per person, per night
Number of people

2 Adults
Includes

2 x Big 5 game drives, lunch, dinner & breakfast
Excludes

Transfers
Gondwhana Family Lodge
Price

R6575 – R11235 per night
Number of people

2 Adults
Includes

2 x Big 5 game drives, lunch, dinner & breakfast
Excludes

Transfers
The Explorer Camp takes you far away from the lodge. It is a two day experience where you will go deep into the wildlife reserve and you will be accompanied by an experienced ranger. On this 2 day experience you will stay out in the wild in luxury tents that are completely off the grid with no electricity or any customs of everyday life. The explorer camp is an adventure that will give you the opportunity to be one with nature, the wildlife and what surrounds.
Explorer Camp
Price

R5860 – R6690 per night
Sleeps

2 Adults
Includes

2 x Big 5 game drives, lunch, dinner & breakfast
Excludes

Transfers
BOOK YOUR SAFARI TODAY!
Booking a safari with us is easy. Fill out the contact form and lets get started. If you are good to go just let us know and we will book you straight in, alternatively we will be back in touch in just a minute to assist you with any questions or personal requests. We are always happy to assist and love to help you plan your perfect experience with us.
Have Any Questions? Contact Us!
Explore More Of Our Adventures
If you looking for some more fun things to do in Cape Town, we've got loads of exciting day tours and adventures on hand. We also recommend these: