Pumba Private Game Reserve
Pumba Private Game reserve is an exclusive 5 star game reserve in the Eastern Cape. This private game reserve is for those looking for a high standard safari experience in luxury. Puma Game reserve offers high end accommodation, various activities and exceptional game drives 365 day of the year.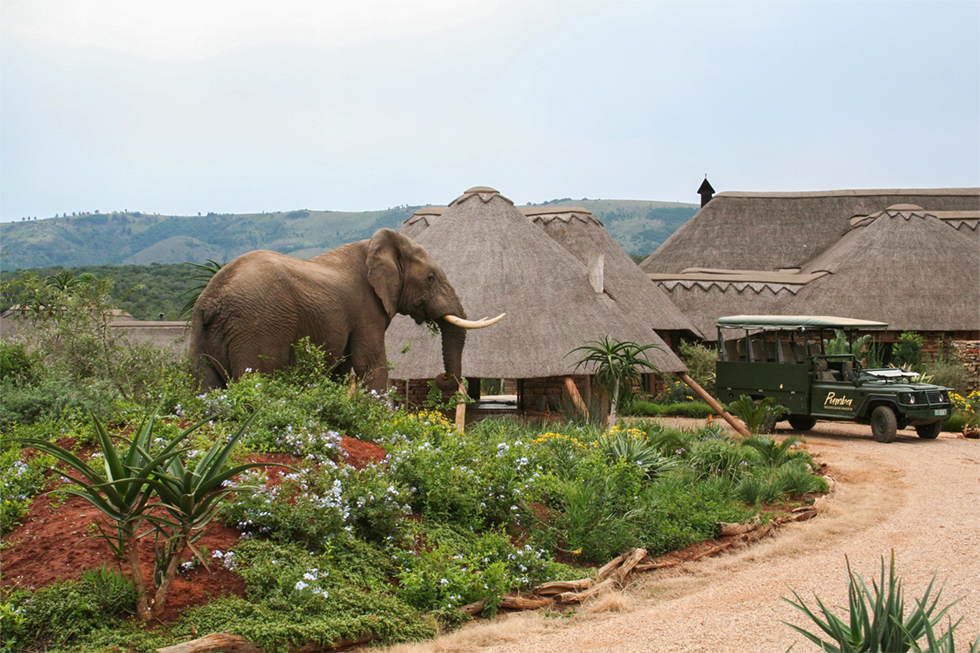 About Pumba
Pumba is a private game reserve located in the Eastern Cape and is known as one of the top safari destinations in Africa. Pumba game reserve is home to a diverse selection of wildlife, including the Big 5 and other animals like the White lion, hippo, hyena, cheetah, giraffes, and various antelope. And, you can see more than 300 species of birds as well.
The reserve is malaria free and offers high standard safari drives in open land-rovers, for an ultimate experience. The safari drives are 2.5 hours long, one in the morning and one in the evening and you will be accompanied by an experienced game ranger. Pumba also offers additional walking safaris, bird safaris and photographic drives as well as various other activities at the lodge.
Pumba game reserve offers 5 star accommodation in one of two exquisite lodges, boasting lush finishes and the finest comforts. The views and scenery are out of this world. The breakfast, 3 course lunches and 5 course dinners are outstanding and contribute to the exclusive high end experience. The standard of hospitality and service at Pumba game reserve is extraordinary.
The Safari Experience
The best time to arrive at Pumba game reserve will be in time for lunch at around 13:30. Of course you don't want to miss out on your first 3 course lunch to get the day going. You will be checked into your room and introduced to the lodge. Then, you are going on your first South African safari. This will be in an open 4×4 safari vehicle and you will be joined with an experienced game ranger. After the safari, you have some time to relax and take it all in before for your 5 course dinner in the restaurant. After dinner, you can sit back and enjoy the tranquillity that the game reserve has to offer.
The days are similar at Pumba Game Reserve. You will be served 3 outstanding meals per day; breakfast, a 3 course lunch and a 5 course dinner. You will be able to go on two safaris per day. With this safari, you will go in a 4 x 4 safari vehicle and see a variety of South African wildlife. The second safari will take place with sundowners, at sunset. When you aren't on the safari, you can enjoy the tranquillity of the game reserve. The rest of the time, you can enjoy the activities that you can find at the reserve, or you can just sit back, relax and enjoy the animal's sounds that you can hear while sunbathing the swimming pool.
The day you are checking out, you will be able to go on the morning safari, enjoy breakfast and relax at the lodge before you depart.
Activities At Pumba Game Reserve
Going on safari drives isn't the only thing that you can enjoy at Pumba private game reserve. There are plenty of great activities that you can enjoy in between. Some activities are included such as Bass fishing and archery. Other exclusive activities aren't such as additional bush walk safaris, bird safari's and the photographic drives where you and a ranger will go out purely to photograph the wildlife. Of course if you aren't up for too much activity and would like some time to relax, then you'll be sunbathing at the swimming pool or having a treatment in the SPA. There are also two Animal Conservation Programs at Pumba game reserve. The one is the White Lion Introduction Program and the other one is the Leopard Monitoring and Re-introduction Program.
Essential Information
At the Pumba private game reserve, the minimum stay is two nights. All meals and safari drives are included, premium drink brands are excluded. Some of the activities are free, but there are some where you need to pay extra. Pumba game reserve is also open for children and offers activities that are specially designed for them.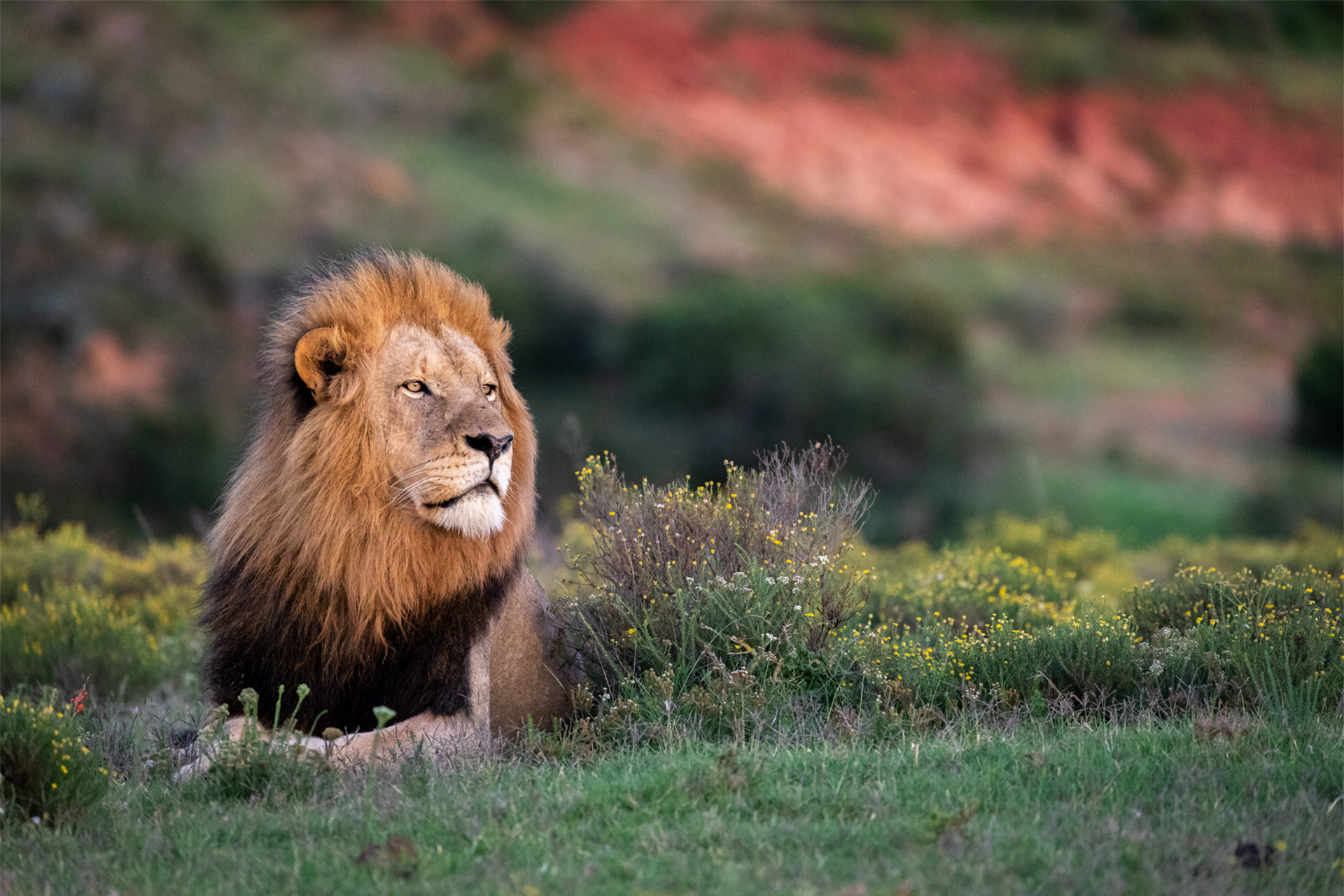 Itinerary
ARRIVAL DAY:
Welcome drinks
5 course Lunch
Sunset game drive
5 course Dinner
FULL DAY:
Sunrise game drive
Breakfast
Enjoy the logde
3 course Lunch
Optional extra activities
Sunset game drive
Time at leisure
5 course Dinner
DEPARTURE DAY:
Sunrise game drive
Breakfast
Time at leisure
Checkout
Location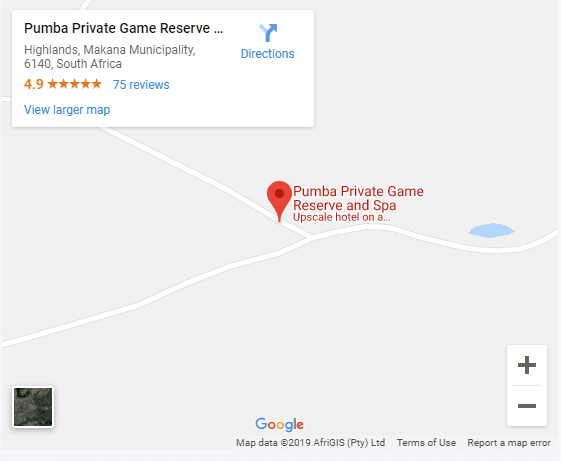 Getting There
Fly to Port Elizabeth and drive for 1h15min. The flight time from Cape Town is 2 hours. The drive from Cape Town takes 9 hours along the N2 highway and takes you through the scenic Garden Route. Transfers from Port Elizabeth airport and Cape Town are available on request.
Accommodation Options
At Pumba game reserve, you are awakened to the sound of nature. At this reserve, you will be able to enjoy a stay at one of their luxurious lodges. Enjoy their amenities and see some of the wildlife that you will not see at any other game reserve in the area. At Pumba private game reserve, you have two basic accommodation options.
Water Lodge
Price

R5965 – R11180 per person, per night
Sleeps

2 or 4 Adults
Includes

2 x Big 5 game drives, lunch, dinner & breakfast
Excludes

Transfers
Msenge Bush Chalets
Price

R3575 – R9430, per person, per night
Sleeps

2 or 4 Adults
Includes

2 x Big 5 game drives, lunch, dinner & breakfast
Excludes

Transfers
BOOK YOUR SAFARI TODAY!
Booking a safari with us is easy. Fill out the contact form and lets get started. If you are good to go just let us know and we will book you straight in, alternatively we will be back in touch in just a minute to assist you with any questions or personal requests. We are always happy to assist and love to help you plan your perfect experience with us.
Have Any Questions? Contact Us!
Explore More Of Our Adventures
If you looking for some more fun things to do in Cape Town, we've got loads of exciting day tours and adventures on hand. We also recommend these: