Skeleton Gorge
The Skeleton Gorge hike takes you through shaded, indigenous forest up the Eastern slopes of Table Mountain, and summits at Maclear's Beacon, the highest point on Table Mountain. 1086m above sea level.
Time: 5 hours
Distance: 6.5 km
Difficulty: Challanging
Terrain: Single rocky track, stone steps, scrambling sections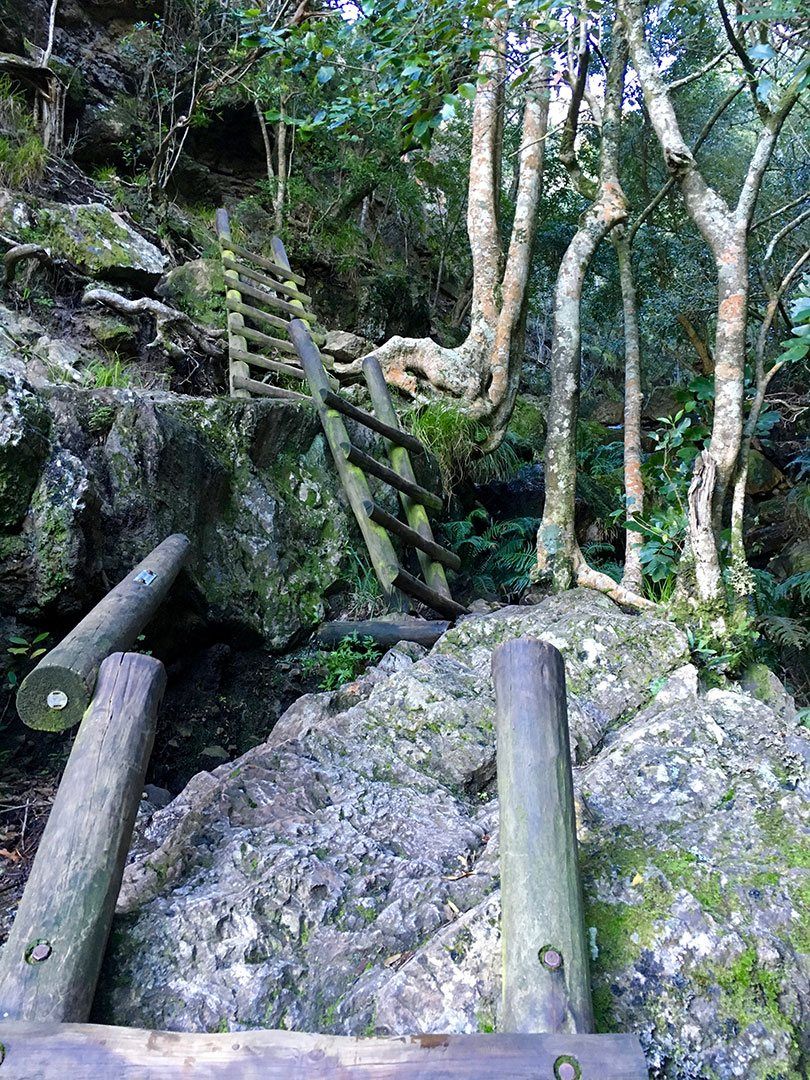 Skeleton Gorge Hike Description
The route is steep, you have to work hard to get to the top. A good fitness level is required for this one. Skeleton Gorge is shaded nearly all the way to the top which makes a cooler accent much appreciated in the hot summer months.
The Skeleton Gorge hike is different from those that summit on the Western and Northern routes. This is because Eastern slopes receive the most rainfall throughout the Cape Peninsula, creating a more diverse forest-like landscape. Think boulders, running water, streams, indigenous shaded forest, fresh smells and a lot of green, and you may start to get an idea of what hikes on this side of Table Mountain is all about.
Skeleton Gorge starts in world-renowned Kirstenbosch Botanical Gardens. We'll wander through tunnels of trees, and over little wooden bridges making our way up the Eastern slopes of Table Mountain to the Contour Path where it is intersected by Skeleton Gorge.
We start our ascent up Skeleton Gorge on some rock steps followed by a series of wooden ladders. 6 in total laid down to help us with some steep rock faces – adding a sense of adventure into this hike. Skeleton Gorge follows a rocky stream where we will do a little minor scrambling, which will consist of using your hands to stabilize yourself as we pass over some rocks. The scenery here is fascinating. It's like a jungle in this forest. The variety of flora and running streamlets blend into this indigenous forest making a spectacular hiking environment.
The river bed leads the way, as the path blends into the mountain slopes taking us up to Breakfast Rock, a massive boulder near the summit. The hard work here is almost done, and we head north along the Eastern flank on a more gradual and well-maintained route. Passing Table Mountain's peaks and gorges to Maclear's beacon via the Smuts track. Maclear's beacon is a short walk to the Upper cable car station where we will take the cable car back down.
Views of the Cape Flats, False Bay, and Hottentots Holland mountain ranges will be enjoyed along the way. Once we reach the cable car station you will be spoilt with uninterrupted 360-degree views of the Cape Town from the main plateau.
Best Time To Hike Skeleton Gorge
This route is shaded most of the way up Skeleton Gorge. Although you can get away with starting later on this route we still recommend starting this hike early in the morning.
From Our Hiking Adventures
Take a look at photos from our previous hikes up Skeleton Gorge guided, Table Mountain.
Itinerary
We start our hikes at 06:30 – 07:30 am

.
Our guide will be at the meeting point waiting for you.
The hike takes less than 5 hours to complete.
Time spent at the top after the hike is up to you.
We take the cable car down.
We will meet at the entrance of Kirstenbosch Gardens.
There is a parking area here, but you should remember that we will finish the hike at the lower cable car station.
Directions
Rhodes Dr, Newlands, Cape Town, 7735, South Africa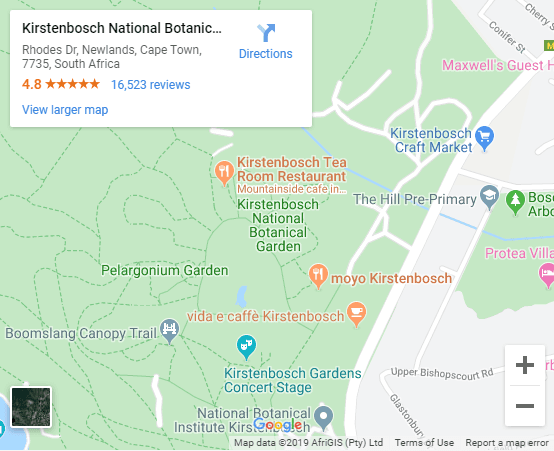 T's & C's
Prices exclude cable car tickets down which can be bought at the top after the hike.
Group hikes stay small and we only pair up if fitness levels and expectations match.
Price
| Group hike | Private hike |
| --- | --- |
| R1550 per person | R1950 per person |
The Adventure Begins!
Have any questions? Contact us or book now!
Explore More Of Our Adventures
If you looking for some more fun things to do in Cape Town, we've got loads of exciting day tours and adventures on hand. We also recommend these: