Safari tours near Cape Town is always a great opportunity to see more than just the city and all that the urban jungle has to offer. Stepping out of your comfort zones and venturing off into the unknown, and yet still very much excited to see all that awaits you is a great way to get your vacation started.
When it comes to wildlife, you can be sure you'll find the best safari tours South Africa has to offer right here in Cape Town. Convenient isn't it? So come along and take a trip with one of the best tour companies in Cape Town and explore the wild side of life!
What safari tours near Cape Town can I enjoy?
Whether you love being outdoors amongst nature or just looking for a different activity and holiday destination to discover, then you'll appreciate the likes of an African safari. From majestic wildlife that roams the lush bushlands to the splendid accommodation facilities suited to all your needs. It doesn't matter if you're enjoying a safari tour on your own, or venturing off with a few mates or family, everyone will thoroughly enjoy this once in a lifetime experience.
At Aquila Private Game Reserve you can enjoy the following and lots more:
Full day horseback safari tour
Full day Cape Town safari tour
Full day quad bike safari tour
One night Cape Town safari tour
Full day horseback safari tour in Cape Town experience
Ever wondered what makes a horseback safari tour great? Well, here it is. The experience differs for everybody, but it is loads of fun. The private reserve gives you the opportunity to travel and roam the 10,000 hectare lands freely led by your skilled tour guide. Doing this on horseback means you're able to travel further distances and see lots more in less amount of time than you would if it was a bush walk. No experience is needed for the tour and kids from the ages of 16years are able to join in on all this excitement.
Other great advantages of a horseback safari tour near Cape Town include the following:
It is safe for the environment – while 4×4 tours are great, travelling by horse eliminates the O2 emissions which in the long run are bad for the environment.
It's a great adrenaline experience – being out in the open with the free-roaming wildlife on horseback gives the experience an exciting edge as you are also roaming freely without being in the confines of a 4X4.
Accessible – when you travel by horseback, you can enjoy the open space completely and access places in which a safari vehicle may not be able to reach.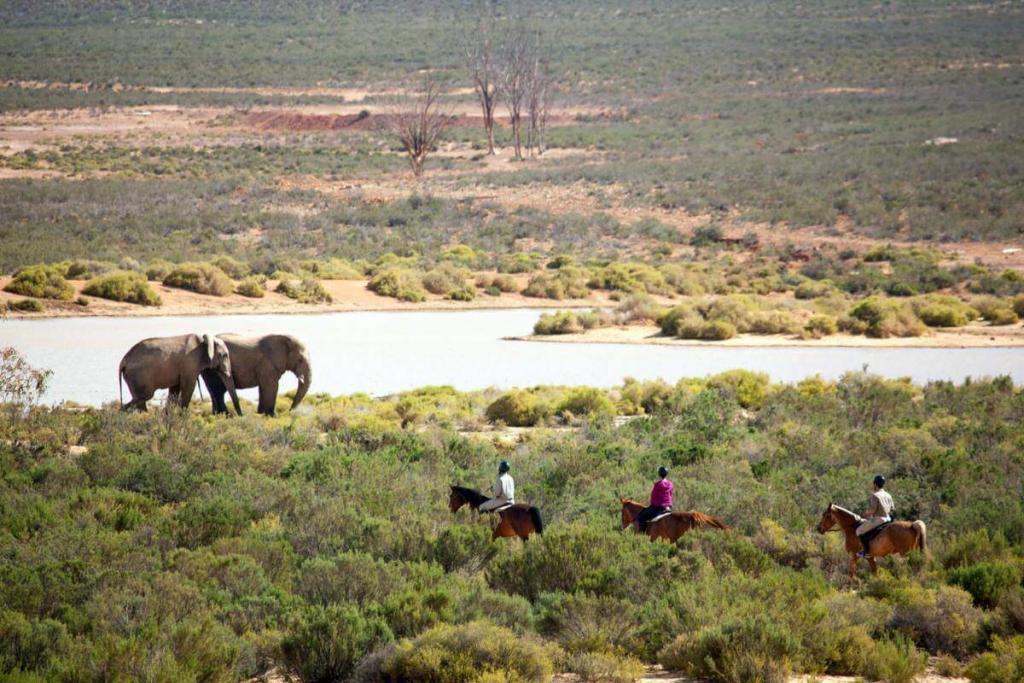 Full day Cape Town safari tour experience
Venturing into the wild has so many aspects and fun elements that a half day tour simply doesn't do it any justice. You want to experience more and capture many exciting moments in this lifetime Cape Town safari tour South Africa. The Aquila Private Game Reserve is located on the rugged lands of the Karoo and offers great game watching opportunity. Your tour experience will take you deep into the un-spoilt bush plains of this semi-arid region in an open 4×4 safari vehicle.
Advantages of the Cape Town safari tour:
Privacy of your own tour experience – you get to enjoy an insightful safari tour guided by a highly trained guide.
Excellent game viewing – because you're going by vehicle, you can take advantage of all the photo opportunity.
Optional accommodation – the private game reserve has plenty of well-suited accommodation options to make your tour last just a bit longer.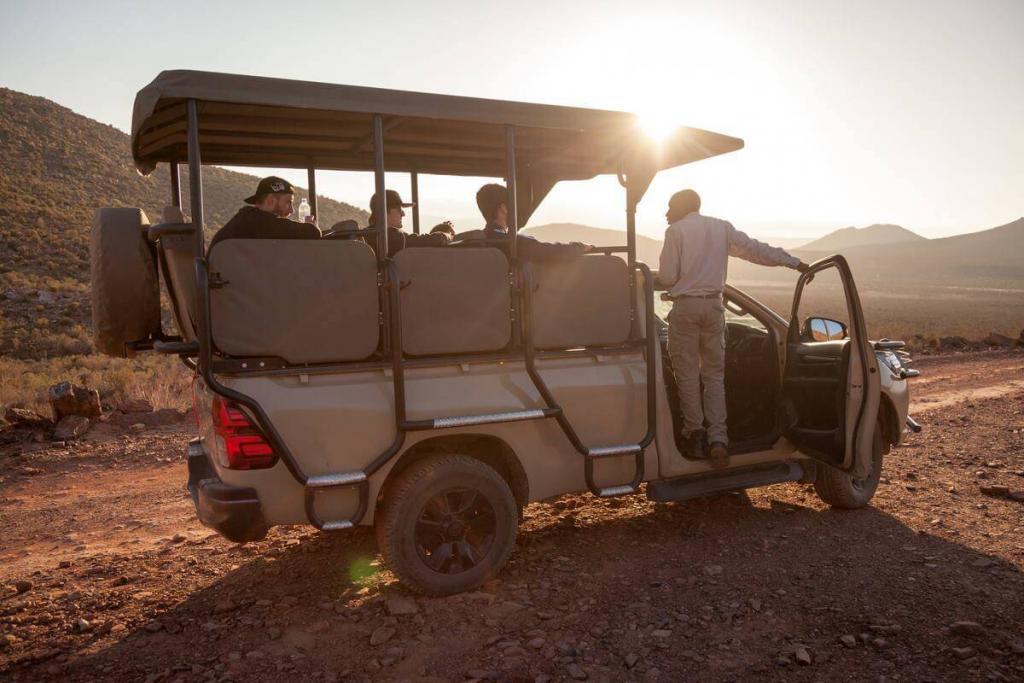 Full day quad bike safari experience
Quad bikes are great for navigating the rugged terrain of the Klein Karoo and your tour is lead by an experienced guide that will show you all the best places to spot game and simply enjoy the gorgeous bush surrounds. Powered by the 250CC engines, these safari quad bikes make your safari tour even more fun, they are safe and children from ages 16 and up can join in as well.
This tour gives you the option to stay over and enjoy the beautiful region by night as you explore the plains with giraffes.
Advantages of the quad bike tour:
Rugged and exciting – being able to navigate the bush terrain on quad bikes is an exhilarating experience.
Great tour guides – your tour guide will take you along the best paths and you can enjoy fantastic vantage points throughout the tour.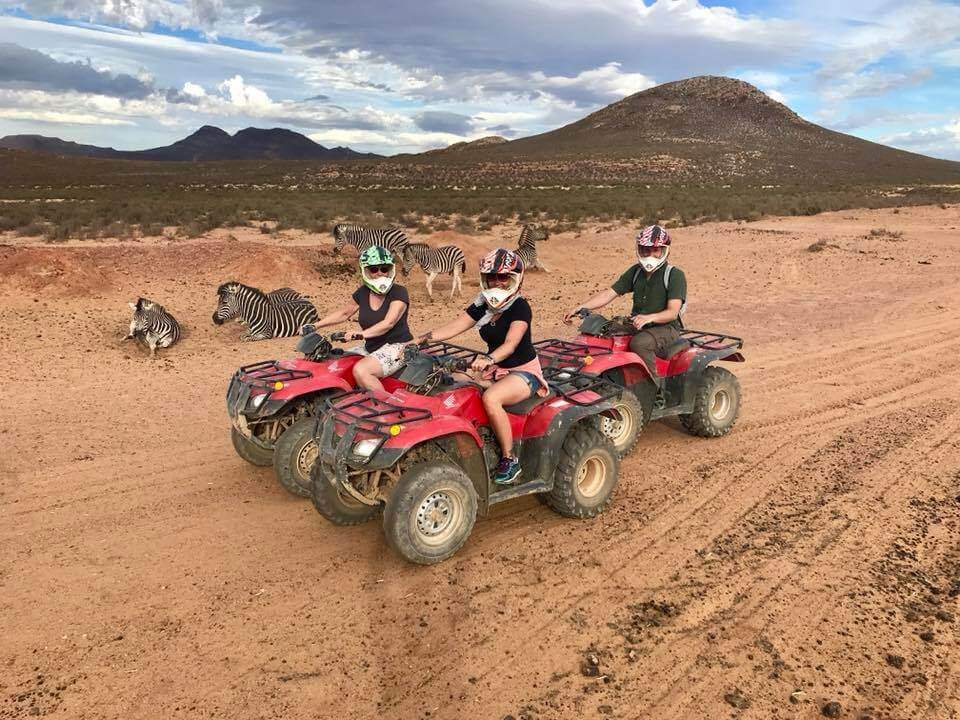 Exciting one night Cape Town safari tour experience
When you're pressed for time but still looking to enjoy an amazing Cape Town safari tour experience, then this one night tour will give you 2 hours of wildlife fun. To make sure you continue to savour the African bush, a stay over at one of the gorgeous private lodges in the middle of the Klein Karoo combined with a sunrise experience is simply awe-inspiring.
All the safari tours near Cape Town offer several optional extras that include but are not limited to spa treatments, buffet style meals, shopping facilities and overnight stays. Book your safari tour today and fulfill your dream of exploring wildlife and all the amazing activities it has to offer.