Interesting info about Chapman's Peak Drive


Because of the views and different scenes that you can see in Cape Town, there are a huge variety of drives or hikes that you can do that will be something to remember for a long time. One of these drives is the Chapman's peak drive.
Most tourists are going on this drive. They are hiring a vehicle or they are going with a tour group. There are many things that you should know about Chapman's peak to understand why this is such a popular drive. The only problem is that the drive can be closed at any time, because of rock falls. This information about Chapman's peak drive, you will know more and you will make sure that you understand why you should take a trip on the peak drive while you are on holiday in Cape Town, South Africa.
The history behind Chapman's peak drive
The history of Chapman's peak started in the early 1900s. The name came from a skipper, John Chapman. After the ship that he was on, becalmed, he was ordered to row to shore and to look for someone that will assist. This all happens during 1607. He found Chapman's peak, and this is where the name come from.
However, Chapman's peak drive was built during the early 1900s. The first part of the road was cleared for vehicles during 1919. This is the first part of the road that was going to the lookout point. The road to the checkout point took seven years to be built. Then Hout Bay – Noordhoek Road was opened for traffic in 1922.
During 1962 part of the road was widened, and in 1977 the road was closed due to flood that damaged the bridge. Luckily, the bridge was repaired and opened again for the public. There are a couple of people that were injured over the years, because of rockfalls. Making sure that you are checking the rocks on the side of the road is essential. Even if they are securing the rocks on a regular basis.
What happens during 2000?
During 2000, the road was closed and it wasn't sure if Chapman's peak drive will ever be open again. This came because of an incident that happened in 1994. Noel Graham was injured and paralyzed during a rockfall. He claimed that Cape Metropolitan Council neglected to maintain the road so that rockfalls won't happen.
The judgment was against the Cape Metropolitan Council and during November 2000, their appeal failed. They were responsible for the accident and they need to pay compensation and the legal fees of Noel Graham. In 1999, there was another accident, where a resident was fatally injured during another rockfall. And, this is why they have closed the drive in 2000. For them, the road became dangerous and that the lives of these two people were changed forever, for no reason. It opened again after repairs were done, and that the mountain was made safe from rockfalls onto vehicles and tourists. It opened again, now as a toll route on 20 December 2003.
In 2004 the drive closed again for 55 days, because of damage that was done to the mountain, because of heavy rain and rockfalls.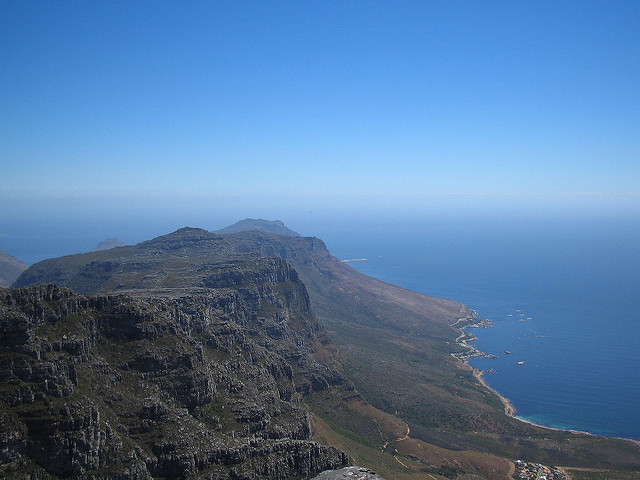 There are many great things to experience in Cape Town. Should Chapman's peak be one of them?
This is a question that many international tourists are asking. There are so many great things that you can see in and around Cape Town. Is Chapman's peak so great, that it is something that you should see before you are returning home?
Yes, this is really something that you should experience. The lookout point is really extraordinary and something that you should see to understand it. This is a view that you will not find at any other part of Cape Town. Even the drive to the lookout point is special. This is completely unique to the other roads that are leading to lookout points.
You might think that this drive is going to be a waste of time. And, that all the views are similar from all angles. However, this is completely not the truth. You being in the middle of a mountain, with ocean views in front of you. This is something that you only will understand if you are there yourself. When you think about all the other hikes in the area that you have done, then you will realize that Chapman's peak drive is the most beautiful one of them all. So, yes, it is really essential to make sure that you are doing this route before it is time to go back home.
Reasons why Chapman's peak is so popular among tourists
There are really a lot of reasons why Chapman's peak is so popular among tourists. So much, that they don't really care about rock falls that can happen at any given moment. If you aren't sure if this is something that you should experience, then you should make sure that you read these reasons why Chapman's peak is so popular among tourists.
The view is to die for. Really. There isn't any other scene in Cape Town, or anywhere else for that matter, that are this beautiful. Views that you will not forget soon.
Photography. If you love taking unique photos, then Chapman's peak is the right place for you. They are making sure that you are going to have the best photos that you have taken yourself.
You will understand this only if you were there. Many people are going to Chapman's peak to have a picnic at this beautiful spot. So, if you think that this is something that you will think about, alone, then you should think again.
You might even see a whale or two. This is if you are visiting the Chapman's peak at the right time of year. They aren't always around, and you need to make sure that you know when they might be there. The date and the time of day. This will be worth waiting for.
You can take this drive on, by bike, hike or by vehicle. And, each method is going to ensure a new experience. There are many tourists that are hiking up Chapman's peak to get the most out of the views.
This is one of the things that you can do in Cape Town for free. You don't need to pay anything to make use of the Chapman's peak drive to get to the top of Chapman's peak. Letting you save as much money as possible.
You should just make sure that you are getting off the drive before noon. The road closes at noon and only open early the next morning. This is because it is dangerous to drive on this road during the night.
Chapman's peak safety
There were incidents before, where people have died on Chapman's peak and on Chapman's peak drive. This is because of different reasons.
The most common reason why people are getting injured or fatally injured is that of slipping and falling of Chapman's peak. There are barriers, but this doesn't mean that you are completely safe. Accidents do happen, and you need to make sure that you are careful when reaching the top of the mountain.
Other reasons when there were reports of accidents and fatal injuries is because of rockfalls along the way. There is always a chance that this can happen. Anytime, anywhere on the road. This is why the road is closed so many times. This is because they need to repair the road and secure the rocks again.
If you are going to Chapman's peak, you should really make sure that you are taking all the safety precautions. When you are hiking to the peak, you should make sure that you are taking enough water and food with you. And, you should make sure that you have a phone with you for emergencies. Too many people have gotten lost on the path, and it took days to find them.
Don't hike alone. This can be dangerous, and there will be no one to assist you when you are in an accident and injured. It is also recommended that you let someone know where you are going to hike to. The route and the time that they can expect you back. Getting too close to the edge can also lead to serious accidents. You can slip and fall hundreds of meters down. This is why you should enjoy and admire the views from a distance.
Chapman's peak drives come a long way. It was built during the early 1900s. This is really a beautiful route and you will be glad that you did schedule this route into your holiday. With all this mentioned information, you will know for sure that you are going to have the best time on this drive, and you will see scenes that you will never see again. This is for sure something that you should make time for. The views are the most beautiful here, and you will know that climbing or driving to Chapman's peak was worth the effort.